The refreshed 2022 Ford Expedition brought forth a number of changes for the long-running full-size SUV, including revised exterior styling, new tech features, and a pair of new variants – the sporty Stealth Performance Performance Package and the off-road-oriented Timberline. Both of those latter models come equipped with the high-output version of the twin-turbocharged Ford 3.5L V6 EcoBoost engine producing 440 horsepower and 510 pound-feet of torque – just a touch shy of the Ford F-150 Raptor. That makes these particular versions of the Ford Expedition rather quick – a list that includes this Platinum-trimmed model that recent took on a Toyota Sequoia and GMC Yukon in a drag race hosted by the YouTube channel Sam CarLegion.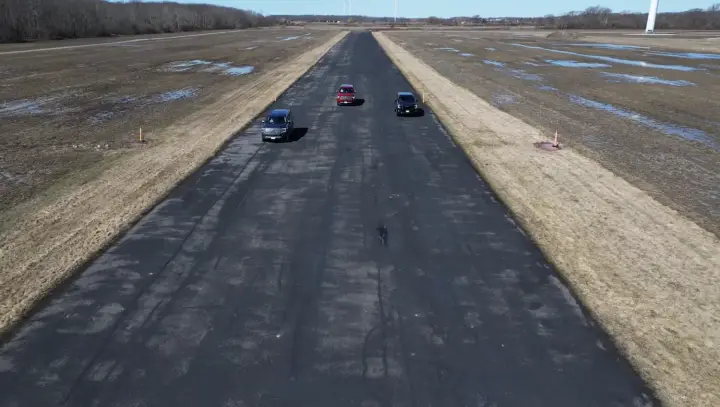 While it's unlikely that folks who drive full-size SUVs are out there drag racing each other on a regular basis, this is a fun exercise, regardless, and it proves that these behemoths are pretty darn quick, too. First up, we have the all-new 2023 Sequoia, which is powered by a twin-turbocharged 3.5L V6 hybrid cranking out 437 horsepower and 583 pound-feet of torque, while the 2023 Yukon Denali in this test utilizes a naturally-aspirated 6.2L V6 making 420 horsepower and 460 pound-feet of torque.
All three of these large family haulers are equipped with 10-speed automatic transmissions, though there is one caveat worth noting – the Ford Expedition used in the test is a longer, heavier Max model. However, it's still lighter than its competition at 5,962 pounds versus 6,008 for the Yukon and 6,179 for the Sequoia. Even though it's down on torque in a big way compared to the Toyota SUV, the Expedition wins this bout from a dig with a 0-60 time of 5.3 seconds and a quarter-mile run of 13.9 clicks versus the Sequoia's 5.5 and 14.9-second times and the Yukon's 5.8 and 14.6-second performance.
However, while the Expedition won from a standstill with no problem, it actually finished last in the roll race, with the Yukon falling second behind the winning Sequoia. That particular showdown was pretty close, however, with all three finishing within a half-car (SUV?) length of each other. Regardless, it's nice to know that if the situation ever warrants it, taking down either of these SUVs from a standstill in the Expedition shouldn't be terribly difficult to do.
We'll have more cool videos like this to share soon, so be sure and subscribe to Ford Authority for more Ford Expedition news and continuous Ford news coverage.