As it aims to become carbon-neutral by 2050, Ford has made changes to many parts of its organization, including launching its first-ever integrated sustainability and financial report back in 2021, combining its accomplishments and aspirations with new targets to achieve climate-related goals. Ford has since garnered considerable recognition for this new way of reporting from Norfolk Southern Corp, which has also been the case with its Chinese joint-venture Changan Ford, green bonds issued by the automaker, and BlueOval City's planned use of carbon-free power from the day it opens. Now, Ford has released its 2023 Sustainability Report, giving us further insight into its latest efforts to become more environmentally friendly.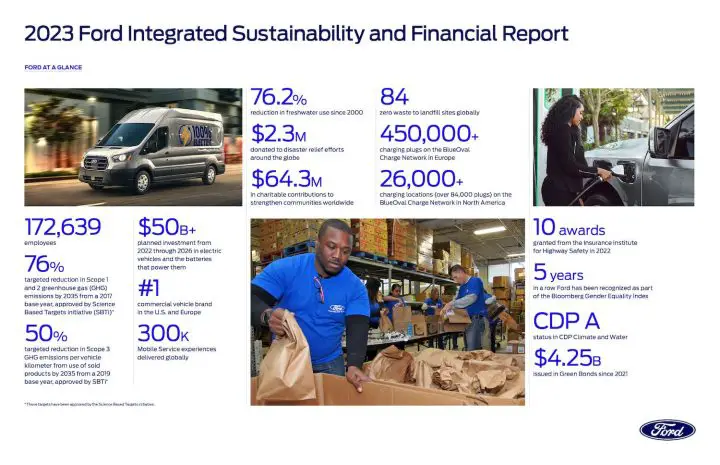 Ford's 2023 Sustainability Report contains quite a bit of interesting information, revealing that the automaker remains on track to meet its goal of becoming carbon-neutral across its entire global operation by 2050, and also found that between 2017 to 2022, the automaker reduced emissions from its manufacturing facilities by 40 percent. In 2022 alone, 60 percent of the electricity it used was carbon-free, too.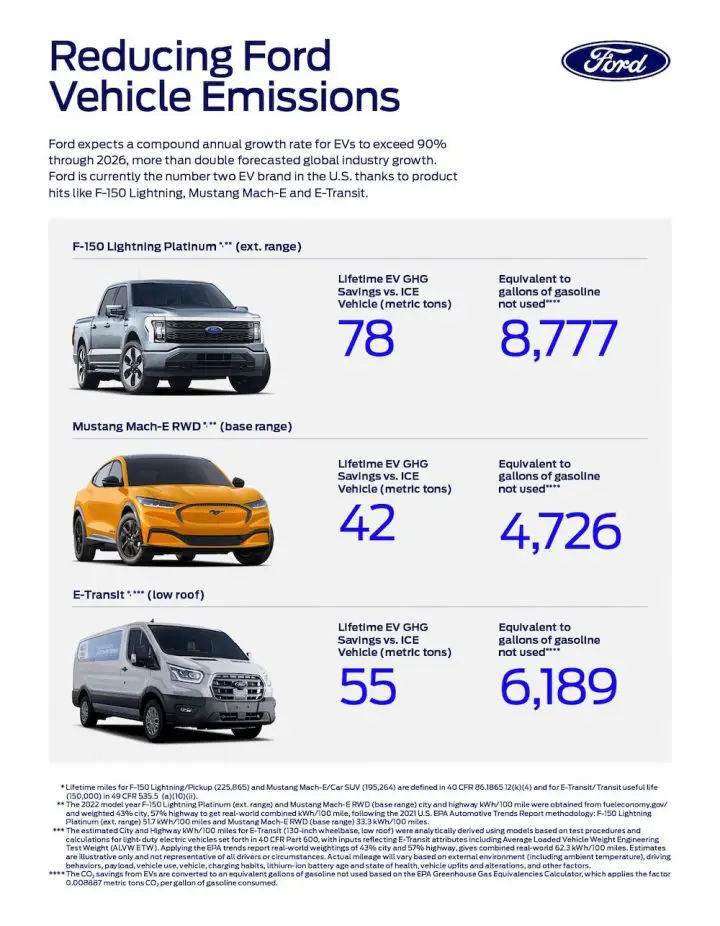 On the consumer side of things, Ford estimates that those who drive a Blue Oval EV could reduce their lifetime carbon dioxide emissions by as much as 60 percent when compared to an ICE alternative. These results vary by model, as one might imagine, but the carbon dioxide emissions saved by driving a Ford F-150 Lightning equates to around 8,777 gallons of gasoline in its lifetime, according to FoMoCo. Additionally, the 2023 Sustainability Report documents the progress the automaker has made in building a responsible EV supply chain, as well as the $64 million in charitable contributions made by Ford Fund last year alone. The entire contents of the report can be viewed here.
"We believe the long-term success of any business is inextricably linked with creating value for customers, employees, and communities, while also caring for the planet, said the automaker's executive chair, Bill Ford. "We are undertaking a massive transformation to lead the electric and connected era of transportation and are committed to being transparent about our progress and opportunities for improvement. We are excited and optimistic about the future and look forward to making carbon-neutral transportation a reality."
We'll have more on Ford's sustainability initiatives soon, so be sure and subscribe to Ford Authority for continuous Ford news coverage.