For quite a few years now, more than a few Mazda Miata owners have swapped out the tiny roadster's equally tiny engine for something more sinister – in many cases, V8 powerplants from the likes of General Motors and Ford. This is something of a continuation of the ages-old hot rod hobby, which started with folks swapping the biggest, most powerful engine they could shoehorn into the smallest, lightest vehicle they could find. This 1992 Mazda Miata up for grabs at Bring a Trailer keeps that tradition alive, though it's also not a corner carver like many of its brethren, either.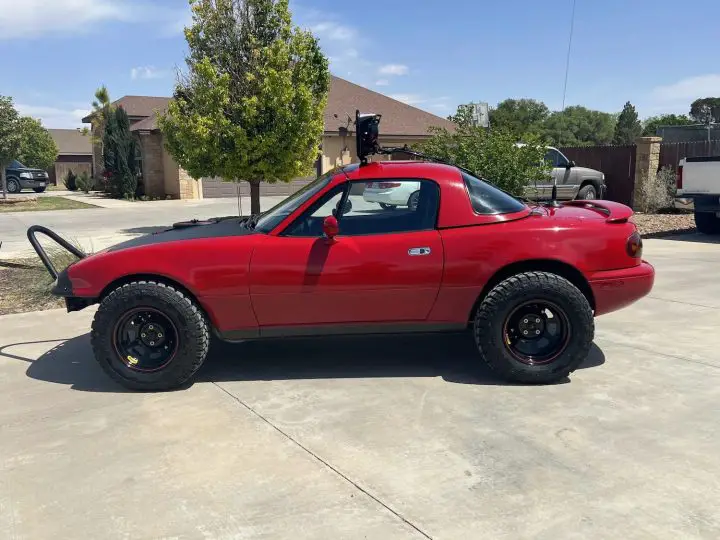 That's because this particular 1992 Mazda Miata has been done up in safari style, with a Paco Motorsports lift kit and Tokico adjustable coilovers underneath to help it sit a bit higher off the ground, and also make room for a set of 14-inch Bassett steel wheels wrapped with meaty 27×8.5-inch Forceum M/T 08 Plus tires. If all of that isn't enough, this pint-sized off-roader is also fitted with a front bull bar, KC HID auxiliary lights, and a CB radio antenna, too.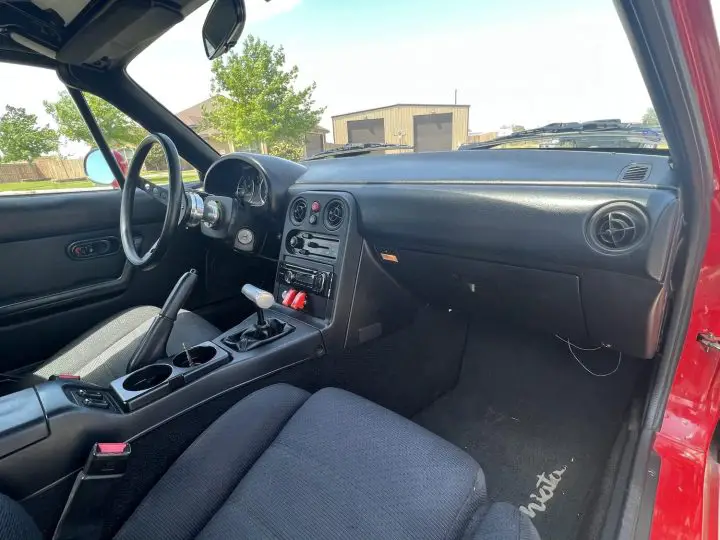 The front bumper is long gone, helping to make room for that giant bull bar, while the nose has been sprayed with bedliner material to add some durability. Altogether, this Miata's roof is around 65 inches off the ground from the top of the lights to the bottom of the tires, which is pretty hysterical for such a tiny little roadster.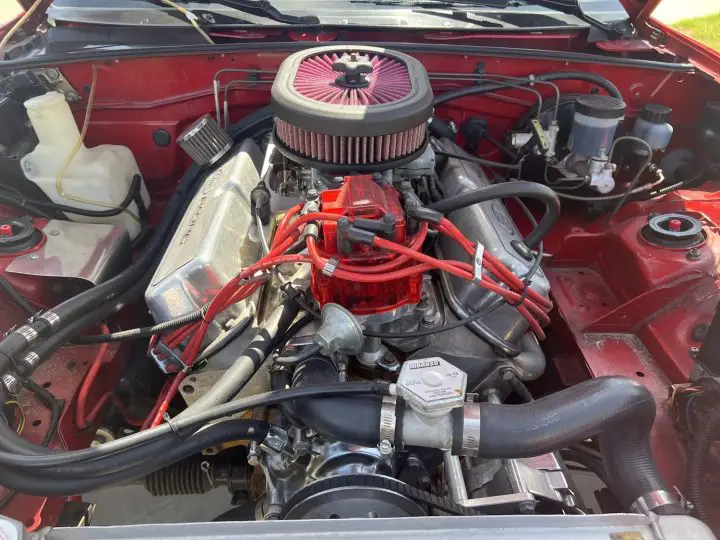 Inside the cabin, this Miata features a mostly stock look, albeit with a few additions including some aftermarket switches, a T-handle Hurst shifter, a roll bar, a Pioneer CD stereo, and an aftermarket steering wheel. The real news here, however, is what lies under the hood, which has a hole cut in it to make room for a 302 cubic-inch Ford V8 that's equipped with aluminum cylinder heads, an aftermarket camshaft, an Edelbrock Performer intake manifold, and a Holley Demon carburetor.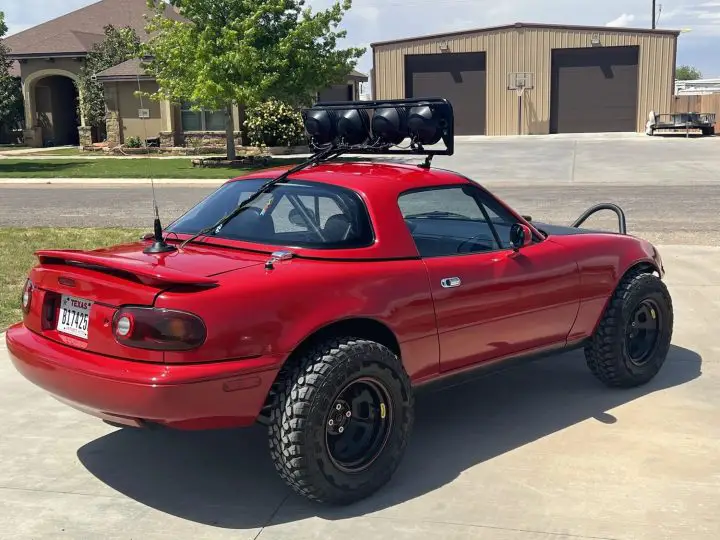 Power from that engine flows to the wheels via a T5 five-speed manual transmission and a Ford 7.5-inch differential, making for one heck of a fun combination. It's unclear how much this truly unique Miata will ultimately sell for, but we imagine that dollar for dollar, it would be hard to find something that'll turn as many heads – and bring as big a smile to one's face – than this.
We'll have more cool auction finds like this to share soon, so be sure and subscribe to Ford Authority for 24/7 Ford news coverage.