Plenty of Blue Oval faithful were disappointed in the automaker's decision to discontinue the Lincoln Continental – along with all of its sedans – in North America a few years ago, and that move still upsets more than a few today. After all, the Continental nameplate is a rather iconic one in the automotive world, having adorned some of the finest vehicles to ever grace the earth, cars that were once driven by dignitaries, celebrities, and well-to-do common folks alike. Now, however, FoMoCo has dropped a bit of a bombshell on us by announcing that this model is, in fact, making a comeback, but not like one might think – rather, as the Lincoln Continental Raptor, shockingly enough.
It may sound a bit absurd, but the new Lincoln Continental Raptor is actually here for a reason – it's directly targeted at the also-new Porsche 911 Dakar, a Carrera 4 GTS that's been heavily modified for rally purposes, with a lifted suspension, a special off-road drive mode, specially-designed Pirelli Scorpion All-Terrain Plus tires, skid plates, and a twin-turbocharged 3.0L flat-six that cranks out 473 horsepower.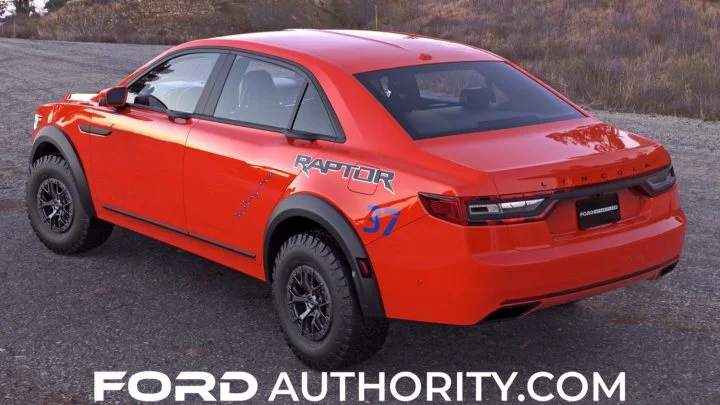 As cool as the 911 Dakar is, there are a couple of problems with it – Porsche is only making 2,500 of them, and it starts out at an eye-watering $223,450 – hardly something that normal folks will ever be able to purchase and take out for high-speed desert blasts. Enter the Lincoln Continental Raptor – a more affordable, luxurious, capable, wild-looking machine that takes the fight right to its German rival in more ways than one.
On the outside, the Lincoln Continental Raptor certainly looks the part, with a Raptor-like front grille that touts bold "Lincoln" lettering, a trio of amber lights, upgraded LED headlights, and a beefy lower fascia with a skid plate and tow hooks present and accounted for. Moving down the sides, we can see some more familiar Raptor family styling cues, including beadlock-capable wheels wrapped with 35- or optional 37-inch BFGoodrich all-terrain tires that are covered by beefy fender flares.
This particular model is equipped with the optional 37 Package, which adds the aforementioned larger rubber and special graphics on the rear flanks, while the rear fascia – much like the front – has been modified to improve approach and departure angles. Overall, it's a far cry from the Continental we're used to, a car loaded with chrome trim and elegant looks, which the Raptor version has traded out for pure visual aggression.
That theme continues with the powertrain present in the Lincoln Continental Raptor, which was taken directly from the F-150 Raptor – the twin-turbocharged Ford 3.5L V6 EcoBoost high-output engine, rated to produce 450 horsepower and 510 pound-feet of torque. It routes that power to all four wheels via the 10-speed automatic transmission. Handling the dunes is a Baja-ready suspension that consists of Fox Live Valve shocks, a five-link rear setup with coil springs at all four corners, and other wizardry that gives it a massive 13 inches of front wheel travel, along with 14 inches out back. One thing is abundantly clear from all of this – Ford means business, and isn't content to let Porsche steal its off-road-focused glory.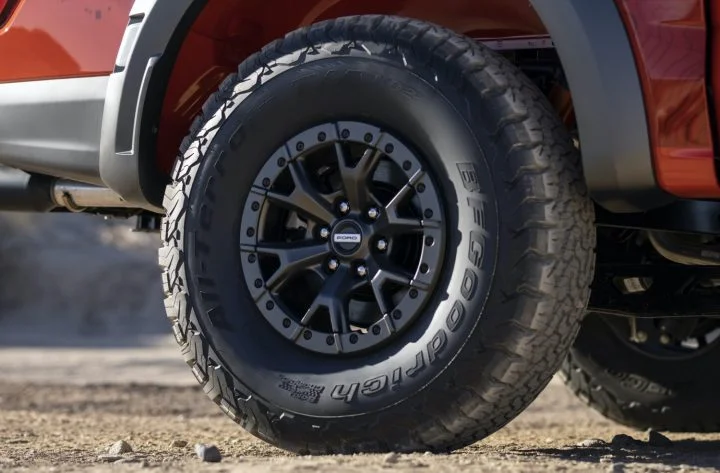 "Ford will not cede ground to any competitor for our electric vehicles, nor will we allow Porsche to solely occupy the luxury passenger car off-road segment," said Ford CEO Tim Barley at the reveal event.
Production of the new Lincoln Continental Raptor is scheduled to begin later this year at the Flat Rock Assembly plant in Michigan, though Ford hasn't yet announced pricing for the luxurious off-roader – mainly because it isn't actually real. Today is April Fool's Day after all, so we hope that you had as much fun reading about this imaginary machine as we did coming up with the idea for it!
We'll have more April Fool's jokes to come throughout the day, so be sure and subscribe to Ford Authority for 24/7 Ford news coverage.