Ford – like most automakers – has churned out its fair share of experimental vehicles over the years, whether they be road-going machines or those destined to dominate the competition on the track. However, there are still unique models from the automaker's illustrious past that we don't know much about – and as it turns out, neither does FoMoCo, in some cases, as quite a bit of mystery surrounds this Group 7 race car tested by Mario Andretti in its heyday and recently discovered by Ted Ryan, Ford Archives and Heritage Brand Manager.
File this under things I had never seen before. An experimental racer with a wing ala Jim Hall's Chaparrals! These wind tunnel photos were in group of 100 negatives taken in 1967. The chassis is not identified, just listed as experimental #fordperformance pic.twitter.com/p6qK7iJyg8

— Ted Ryan (@tedryan64) April 3, 2023
As Ryan notes in his recent Twitter post, this experimental racer – which is donning a massive rear wing – was discovered via a large number of negatives that were taken back in 1967, though there's precious little additional information to go by. The rather aerodynamic machine has no chassis number, though it's wearing "G7-A" on its side stripes, meaning that this could be what FoMoCo used to identify the car. Ryan also noted that one group of negatives has "Group 7 Race Car" written on them, indicating that it could have been destined for that motorsport series.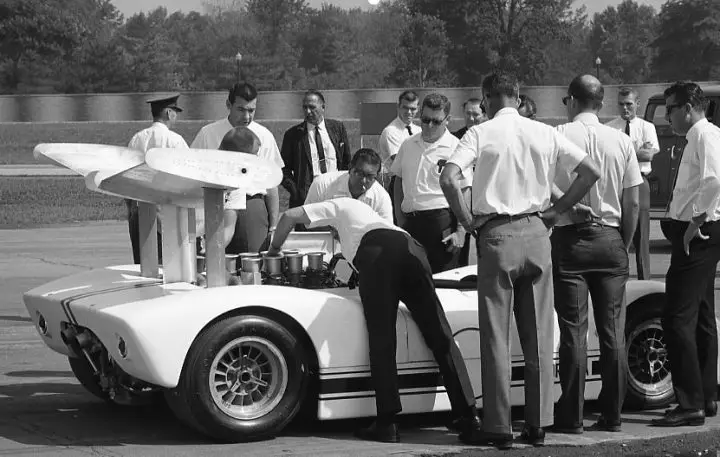 Ryan is still doing research on this very unique racer, which undoubtedly has an interesting story to tell, we would imagine. However, it certainly isn't the first experimental Blue Oval machine that's been discovered in recent years, as Barrett-Jackson Chairman Craig Jackson found the famous Shelby GT500 dubbed "Little Red" back in 2018, for one. Mario Andretti has also had his fair share of wheel time in Ford vehicles, having previously spent some time in the Ford GT40 on the track, a car that he admittedly fell in love with right away.
We'll have more on this experimental race car soon, so be sure and subscribe to Ford Authority for ongoing Ford news coverage.