Though no official police version of the Ford Mustang Mach-E exists as of yet, a prototype was created a couple of years ago, and a handful of law enforcement agencies across the globe are already testing the EV crossover, including the FBI, the Dearborn Police Department, and the Department of Homeland Security, to name just a few. The New York City Police Department is also working on replacing its ICE and hybrid fleet with Ford Mustang Mach-E crossovers, recently placing a 184-unit order with more planned for the coming years. Now, according to CBS, that transition appears to be going quite well thus far.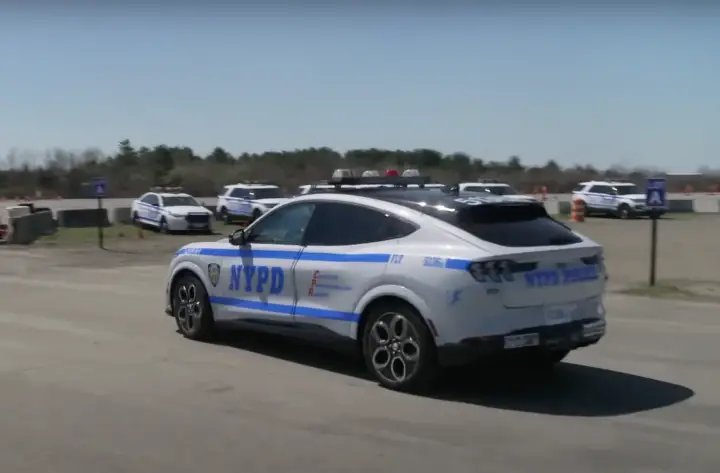 The nearly 200-vehicle NYPD fleet is the largest EV trial in the U.S. at the moment, but in this video, we get a feel for how officers actually participating in the program feel about it. Those officers note that there was some skepticism regarding charging and charging times prior to the fleet's deployment, but that hasn't been an issue as of yet.
In terms of performance, the Mach-E has proven that it's up to the task, as it accelerates and brakes better than any other vehicle in the NYPD fleet, and figures to help the department save on the $100 million it current spends per year in fuel costs. Still, there's a bit of a learning curve involved, particularly when it comes to ensuring that these vehicles remain charged while they're out on duty.
As far as other areas for improvement go, officers testing the Mach-E note that they could use some more space inside the vehicle for equipment, which has been a common complaint since the prototype's launch. Otherwise, those officers report that the EV crossover drives just as good, if not better than its ICE counterparts, and its upfitting costs are pretty similar, too.
We'll have more on the Mach-E soon, so be sure and subscribe to Ford Authority for more Mustang Mach-E news and continuous Ford news coverage.