Since the all-new, S650 generation 2024 Ford Mustang was revealed last September, we've learned a lot about the redesigned pony car, including how much power it makes, how much it will cost, and when order banks were set to open, which just took place last week. Earlier today, Ford and Formula Drift/Ultra4 racer and purveyor of RTR Vehicles, Vaughn Gittin Jr., also reveled the new S650-based Spec 5-FD race car, at which time the automaker provided us with yet another interesting piece of information about the next-gen 2024 Ford Mustang – RTR also helped the automaker create the pony car's new electronic drift brake, too.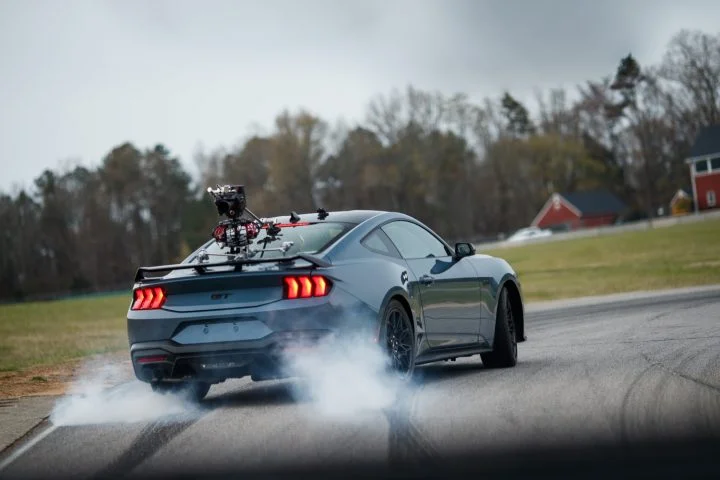 "I'm excited to announce not only that I will be back behind the wheel of a competition Mustang RTR with our signature aggressive styling and serious performance updates but I'm also thrilled that Ford and RTR have worked tirelessly to make something special with the new electronic drift brake," Gittin Jr. said. "Chelsea [DeNofa] and I had the honor of working with the passionate engineering team at Ford to develop. Our goal was putting larger smiles on the faces of soon to be fellow seventh-generation Mustang owners."
The electronic drift brake present in the 2024 Ford Mustang is part of the Performance Electronic Parking Brake feature, which is available in both EcoBoost and V8-powered models equipped with the optional Performance Pack. While it utilizes a traditional-looking hand brake, this feature unlocks the Mustang's drifting capabilities by emulating the hydraulic drift brake found in the RTR racing variant, yet provides three times the braking force of a conventional mechanical parking brake system.
"Mustang has always stood for on-road freedom and track performance and its first-ever electronic drift brake adds a whole new dimension of on-track fun and capability that will enable almost anyone to drift like they're a soon-to-be-Vaughn Gittin Jr," said Jim Owens, Ford Mustang brand manager.
We'll have more on the 2024 Ford Mustang soon, so subscribe to Ford Authority for the latest Ford Mustang news, and for comprehensive Ford news coverage.