Thanks to the prevalence of dash cams and smartphones these days, we're seeing more and more wild crashes captured on film and uploaded to the internet, including horrifying head-on accidents, those that result from bad decisions made out on the trails, and even wrecks involving cars that smash through garages and land on top of other vehicles. Now, we have yet another rather obscene accident worth watching, this time involving a wide array of Ford vehicles in what quickly escalates into a massive incident recorded by a couple sitting at a stop light near an overpass.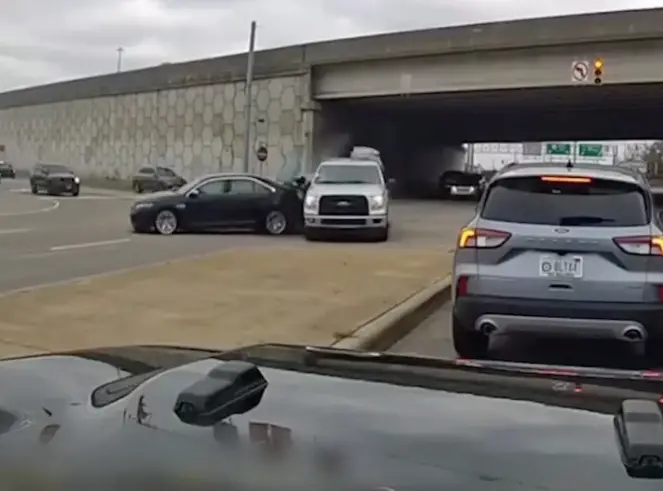 While the person recording all of the action is sitting at the stoplight waiting to turn left on a highway/interstate, the passenger clearly sees that something bad is coming from the left – in this case, a speeding white Lincoln MKX that smashes into a Ford Taurus, which in turn crashes into a Ford F-150. If that Blue Oval pileup isn't enough, thing just get worse from there.
The F-150 is pushed into the concrete median and winds up barreling straight at the truck being driven by the folks recording the whole thing, though the driver somehow manages to turn right at just the right second, avoiding a collision. However, the driver of the Lincoln – who we can now see is attempting to flee a pursuing police officer – keeps going, even with extensive front end damage that has slowed the crossover to a crawl.
View this post on Instagram
The Lincoln driver rolls into yet another crossover before it's finally disabled by an old-fashioned PIT maneuver, at which point this wild chase comes to an end. However, the sheer number of Ford vehicles alone – not to mention other brands involved – that are damaged is pretty mind-boggling, not to mention highly ironic.
We'll have more wild videos like this to share soon, so be sure and subscribe to Ford Authority for 24/7 Ford news coverage.