It's no secret that the first generation Ford Taurus was a revolutionary vehicle when it debuted in last 1985 for the 1986 model year. It's packaging, refinement, styling, and price point vexed rivals for years, and established the front-wheel midsize sedan segment as the default family vehicle of choice for many Americans for years to come. Sadly, most families weren't thinking of preservation when they used their vehicles for transportation, and with enthusiasts more likely to preserve something like an SHO, the vast majority of these cars went straight to the junkyard after years of service. That's why it's always an event when a well-preserved example hits the online auction block, with a 1992 Ford Taurus LX wagon on Bring a Trailer being the latest time capsule that is attracting a surprising amount of attention shortly after going up for bidding.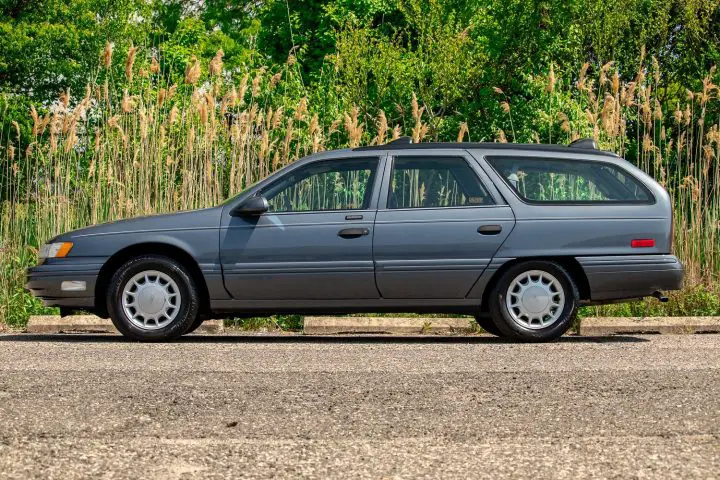 For the Taurus (and its Mercury Sable sibling), 1992 marked the beginning of the second generation, which lasted through 1995. While it utilized the same underpinnings as the first generation, Ford tweaked its exterior and thoroughly redesigned the cabin to be a bit more ergonomically friendly. A total of 368,054 sedans and wagons were manufactured for 1992. This particular 1992 Ford Taurus LX wagon likely has few peers in 2023, as it is seemingly in extremely good condition, with minimal wear inside and out.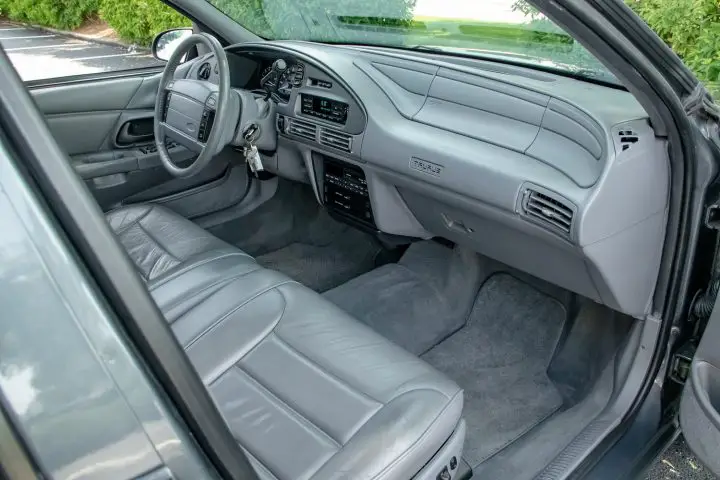 This one-owner gray-on-gray wagon has aged incredibly well, as the cabin appears essentially how it would have presented three decades ago, save for some unavoidable creases on its leather seating. Its previous steward also splurged for many features optional on the LX trim, including electronic climate control, passenger-side airbag, 6-way power driver and passenger seats, power moonroof, and leather seating. Additionally, this Taurus packs the optional 3.8L "Essex" V6, which could be ordered on GL and LX trims.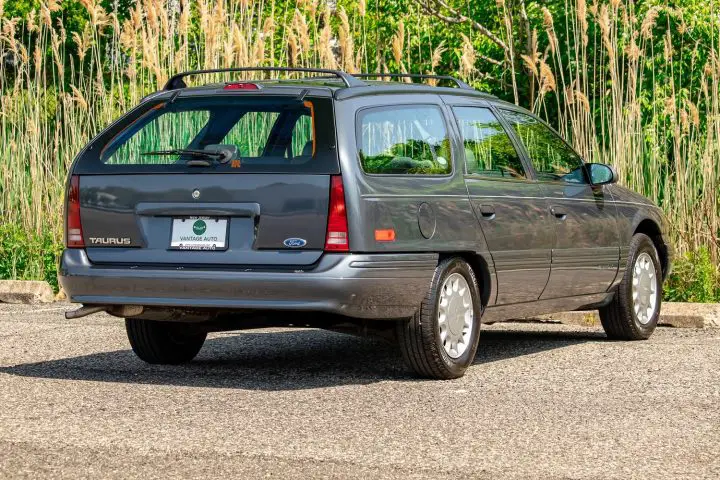 This extremely clean 1992 Ford Taurus wagon has an accident-free history and comes with extensive service documents, judging by the images uploaded to the site. With such low mileage and its blemish-free exterior and interior, it truly is a great option for a collector. With four days left until bidding closes, 12 offers have been made, with $6,500 representing the highest bid as of this writing. In all likelihood, the final bid will likely higher a bit higher, as non-SHO Taurus and Sable sedans and wagons are all but extinct these days. As Ford Authority previously reported, a 2005 Sable LS wagon attracted a $15k bid, so it seems like collectors are starting to realize that there may not be many chances left to get these types of vehicles for much longer.
We'll share more cool auctions like this soon, so subscribe to Ford Authority for comprehensive Ford news coverage.