Ford technician Brian Makuloco of the YouTube channel Ford Tech Makuloco has worked on his fair share of Ford F-150 pickups over the years, and he's clearly a subject matter expert on that model, as well as various other Blue Oval machines. For those experiencing problems with the popular pickup, his videos are a great resource, and in recent months, Makuloco has churned out helpful tips on smoking Ford 2.7L V6 EcoBoost engines, rattling and carbon buildup issues with Ford 3.5L V6 EcoBoost powerplants, gear-skipping 10-speed automatic transmissions, and the pitfalls of shoddy work from shops. Now, Makuloco is back with another helpful video, this time documenting a difficult-looking 3.5L V6 EcoBoost engine swap in a customer's 2017 Ford F-150.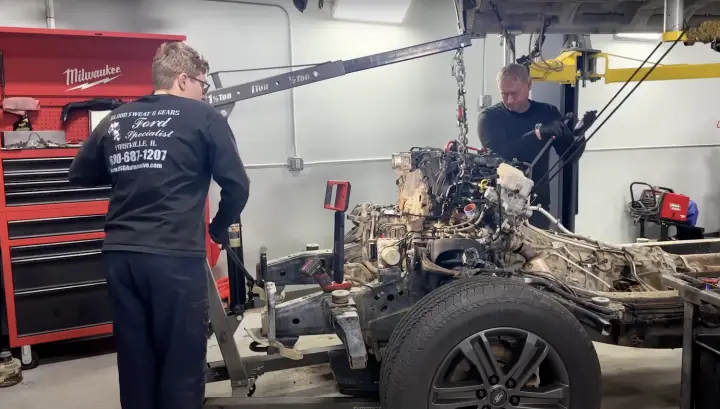 Some viewers wanted more detail regarding what's involved in this particular job, so Makuloco obliged with a follow-up video that provides a general overview of what appears to be a tedious and time-consuming process. It picks up with the old engine and transmission nearly ready for removal, along with a whole lot of swapping bolts over from the old powertrain to the new one.
Of course, having the entire body of the truck separated from the frame makes accessing these parts a bit easier, even though that's quite the process itself. Regardless, after removing a bunch of accessories and various other parts, there's finally room for the cherry picker to roll in and pluck the engine and transmission out of this 2017 Ford F-150.
As far as clearance goes, the abundance of accessories and a pair of turbos don't leave a whole lot of room to work with, which is precisely why Makuloco just opted to lift the body off the frame in the first place. Regardless, this job isn't done quite yet, as he's awaiting on the arrival of several parts that he'll need to finish installing the fresh engine, but we'll be sure and check back to see how this process goes.
We'll have more videos like this to share soon, so be sure and subscribe to Ford Authority for the latest Ford F-Series news, Ford F-150 news, and continuous Ford news coverage.