By now, most are quite familiar with the 2023 Ford F-150 Raptor R, a vehicle that marks the return of V8 power to The Blue Ovals' off-road-focused light-duty pickup for the first time since its first generation. However, we aren't just talking about any old V8, but rather, the supercharged Ford 5.2L V8 that churns out 700 horsepower and 640 pound-feet of torque in this guise, which makes even this hefty rig rather quick in a straight line – not to mention a favorite among critics and enthusiasts alike. Now, we get to see the 2023 Ford F-150 Raptor R outrun a Ram TRX, a BMW X7, and a Cadillac Escalade-V courtesy of this video from The Raptor Connection.
View this post on Instagram
Fresh of beating a Toyota GR Supra and putting up one heck of a fight against a modified C6 Corvette, the 2023 Ford F-150 Raptor is back to take on not only its chief rival – the Ram TRX – but also the brand new supercharged LT4-powered Escalade-V and BMW X7. The more muscular version of GM's ultra-luxurious full-size SUV is packing a healthy 682 horsepower and 653 pound-feet of torque underhood, making it brutally quick in spite of its hefty curb weight – much like the Raptor R.
Next to those vehicles, we have the BMW X7, which utilizes powerplants raining from a 375 horsepower turbocharged inline-six to a twin turbo V8 making 523 horses, though it's unclear which one is present in this race. Finally, we have the Ram TRX, which generates 702 horsepower from its supercharged 6.2L Hemi V8.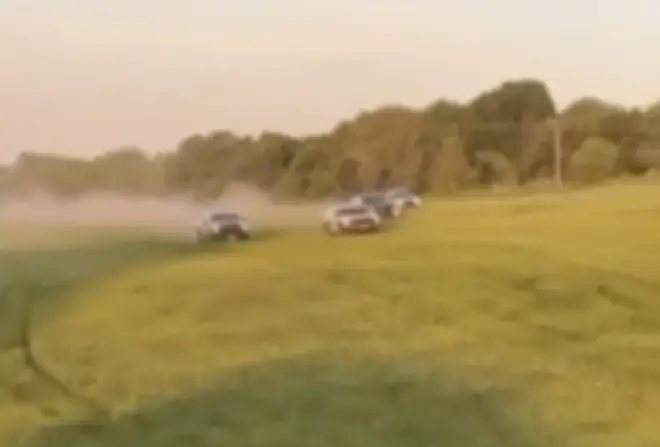 In two races – on the grass, not the pavement, it's worth pointing out – the 2023 Ford F-150 Raptor R has no trouble beating out all of these muscular rides, charging ahead of the Escalade-V in the first race to take home that win, and completely dominating the second race with no controversy. It's an impressive feat for sure, but at this point, just what we've come to expect from the mighty Raptor R.
We'll have more on the Raptor R soon, so be sure and subscribe to Ford Authority for the latest Ford F-150 news, Ford F-150 Raptor news, and ongoing Ford news coverage.