The all-new, next-generation Ford Ranger was just revealed in North American spec, but has been on sale in other markets for months now. That includes some of the more dangerous spots on earth, places where famous folks and politicians don't exactly ride around in normal vehicles – rather, they need armored rides to protect them from threats. The armored prior-gen Ford Ranger was a popular vessel for those folks, and now, a bulletproof version of the all-new mid-size pickup is available to order in South Africa from SVI Engineering, according to Top Auto.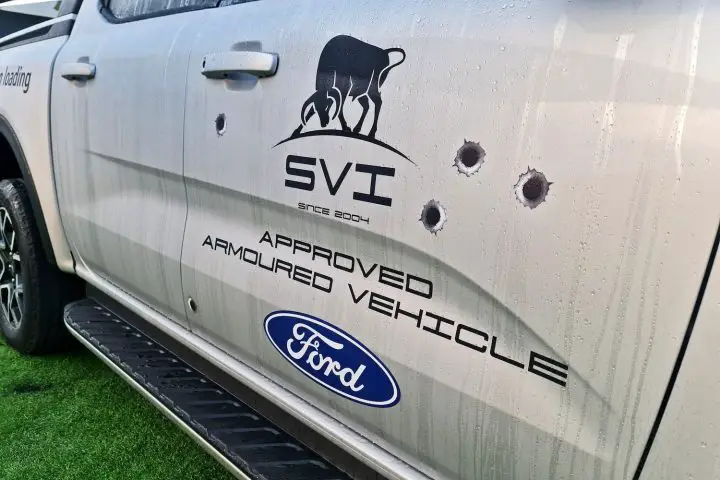 SVI specializes in creating all sorts of armored vehicles – including the older Ranger, as well as the Volkswagen Amarok, Toyota Land Cruiser, Hilux, and Nissan Navara, to name just a few. Now, it's set to offer customers a version of the next-gen Ford Ranger capable of taking fire from small arms and even more powerful rifles after debuting a Wildtrak-based prototype at the Nampo Harvest Day Festival.
This particular Ford Ranger wears B4 level armor, which means that it's capable of taking fire from handguns firing calibers up to a .44 Magnum. The pickup is fitted with both lightweight Kevlar sheets – which are hidden inside of the body panels – as well as ballistic glass. Those that need more protection can opt for B6 grade armor, which can resist damage from more powerful firearms such as the AK-47, and it's also the highest grade available for civilian use without having to obtain a special permit first.
SVI's new armor for the Ford Ranger starts out at R529,979 ($27,826 USD) for B4 grade protection and R802,746 ($42,147 USD) for B6, with orders set to open up at the beginning of June. Those opting for this combination can even finance it through Ford Credit, and don't have to worry about voiding their factory warranty, either. For customers wanting a bit more interior space, SVI also plans to offer an armored version of the Everest SUV, which is currently expected to debut in July.
We'll have more on the new Ranger soon, so be sure and subscribe to Ford Authority for the latest Ford Ranger news and continuous Ford news coverage.