Editor's note: We've decided to publish this Ford Bronco review from Ford Authority reader Jonathan, a Bronco owner with a very interesting point of view on the off-road SUV. This is a take that may not be in line with what you believe, all we ask is that you be respectful of Johnathan and others in the comments section. This review has also been lightly edited. 
Potential Bronco buyers should be aware of two things: the Ford Bronco is every bit the mechanically badass beast it looks like on the outside. It is also every bit the absurd Mattel toy car it looks like on the inside. A strange mixture of modern mechanical marvel and cheap, out of touch design was no doubt the result of very different teams at Ford trying to make two different vehicles. It's as if their winning Raptor off-road team collaborated with their Fiesta team, and the result was Bronco. Driving it long term feels like a cross between Mad Max and Mr. Bean – a formidable mechanical feat fused with an undeniably dopey experience. Here are this owner's thoughts after standing in front of both ends of the Bronco. This is the review I wish someone had written for me a year ago.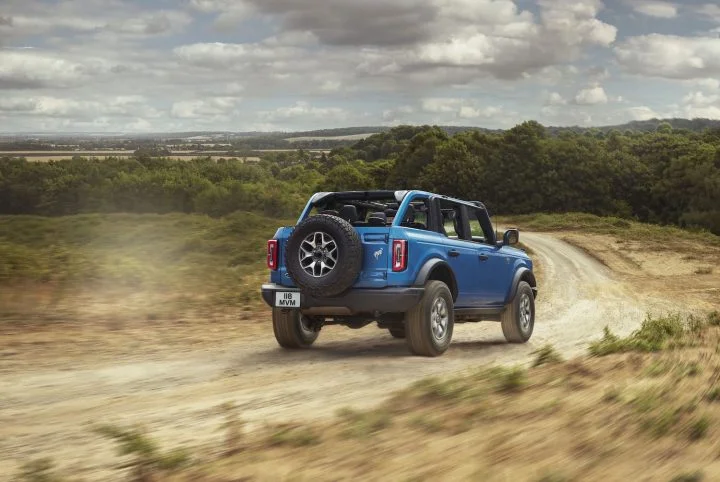 The Good
The Bronco is a mechanical beast that can take on moderate trails straight from the factory. The higher trims come with front and rear lockers and an electronic sway bar disconnect. One off-road advantage it possesses over other competitors, like Jeep, is the ability to lock the front without locking the rear. This can get you up steep, slippery inclines without the fishtailing that often occurs when the rears are locked. The electronic sway bar disconnect allows for more flex, adding traction to uneven environments, and can be disconnected while articulating. It can also keep you comfortable on uneven or rocky terrain.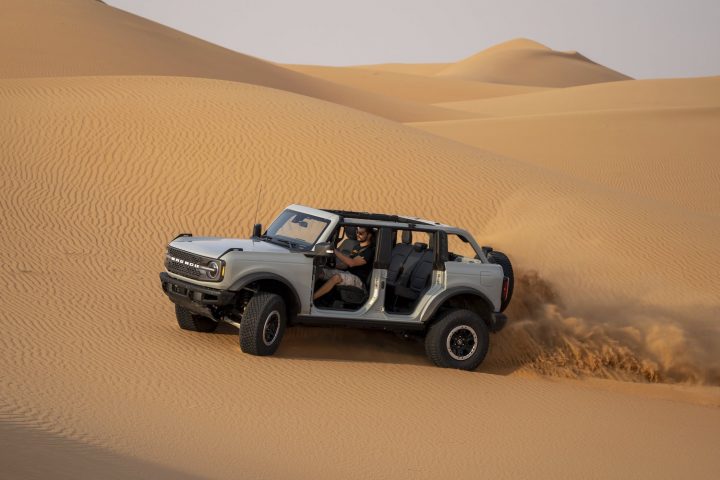 Even with the sway bar disconnected, the design of Ford's independent front suspension isn't quite up to par with that of more dedicated off-roaders like Jeep. Motortrend found that a Jeep Wrangler had a 20% higher ramp travel index (a measure of suspension flex) than the Bronco, and that's with the sway bars disconnected on each. Lower trim Broncos without this disconnect are deeply castrated, with far less flex. The trade-off is drivability. By having an independent front suspension, Ford has made the Bronco a much better street car than the Jeep. Jeep may dominate the trails, but getting to them will require a lot more attention to steering and a less comfortable ride than the Bronco.
With IFS, Ford has positioned the Bronco as a more capable desert racer, and by desert racer I mean mall crawler or grocery getter, which is what it will be to the vast majority of owners. If you spend more of your time on-road than off, the Bronco will definitely be a more comfortable ride at the expense of off-road capability. Off-road, Jeep offers more articulation, and a proven solid front axle design giving consistent front end balance and weight distribution that will keep you firmly planted on the trail, without having to worry about snapping toothpick-size tie rods and without wondering just what your wheels are up to. On the other hand, IFS is far less likely to drag you into ruts or jerk you around in certain off-road conditions and will out-handle most (though not all) solid axle setups.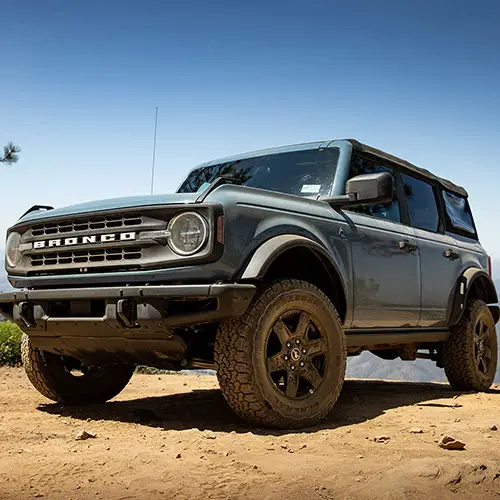 Bronco's G.O.A.T. modes provide a much more fine-tuned experience tailored to your terrain than traditional 4×4 mechanisms alone. In addition to the lockers and disconnect, the various modes alter the truck's throttle response and shift points to deliver the right amount of torque and pedal sensitivity needed for rock crawling, desert racing, or even just snow and ice. Its manners are much more refined than Jeep's OffRoad+ mode, and while some hardcore Jeepers may argue that they're all unnecessary features, these are the same guys who walked to school uphill both ways, and would also like you to get off their lawn. This modern tech makes tackling the trail a whole lot more manageable, ultimately making off-roading more accessible to newcomers and more easy going for the rest of us.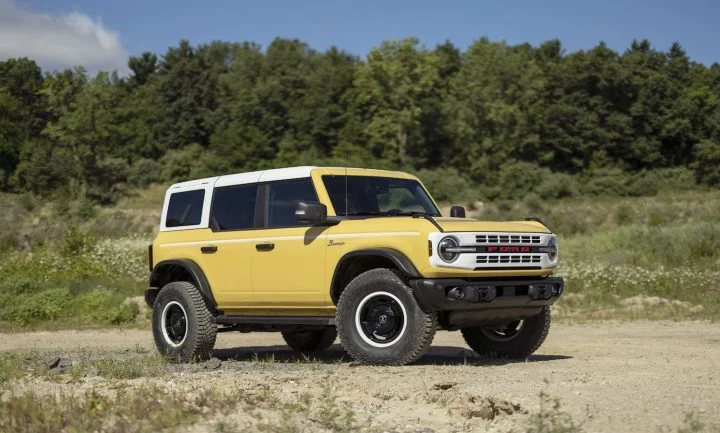 If you purchase the Sasquatch package, you get a nice lift straight from the factory, 35" tires, and better shocks. The Badlands comes with very (very!) firm Bilstein coilovers, while the Wildtrak comes with the more comfortable Fox coilovers. Unfortunately, the Wildtrak doesn't include a sway bar disconnect, limiting its articulation. This seemingly stupid trade-off centers more around Ford's marketing than common sense; their desire to separate the two trim levels for slow articulation vs. high speed racing is ill-conceived, and detracts from the potential either one of thee vehicles could offer. To get the full potential of your Bronco, you'll have to either install your own racing coilovers on a Badlands, add a manual disconnect to a Wildtrak, or buy a Raptor. The Raptor may seem like an attractive upgrade until you consider the extra 10" of track width will be nothing but a hindrance off-road, not to mention the addition of Rubbermaid garbage cans for fenders. The Bronco is a purpose built vehicle, but the trim levels force you to narrow down even further on your purpose, taking an otherwise capable feat of engineering and crippling each trim level in different ways. Thanks, Ford Marketing.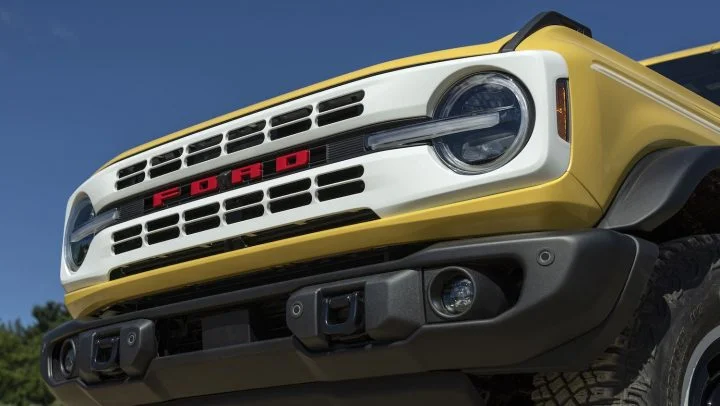 In addition to the mechanicals, the Bronco delivers exceptional safety. The design of the Bronco cabin has bested many front collision tests with flying colors, and if you inspect front collisions on websites such as Copart, most Broncos look barely scratched, compared to absolutely decimated Jeeps. Forum users have posted photos of hitting deer (and even one cow!) at high speeds with only marginal front end damage. Passenger intrusion does not appear to be an issue, and with front and rear side curtain airbags, the energy of side impacts is well controlled. Certainly none of the Jeep-flipping nonsense is likely to happen in a Bronco.
The cabin is big and spacious, ideal for long trips with family or friends. The rear cargo area can handle an onslaught of camping gear and luggage. There is plenty of headroom. The seats are wide and deep. Much like the Ford F-150, the Bronco is like a living room on wheels. If you're a lone wolf, this will all seem quite unnecessary. If you're social by any means, you'll appreciate the extra room.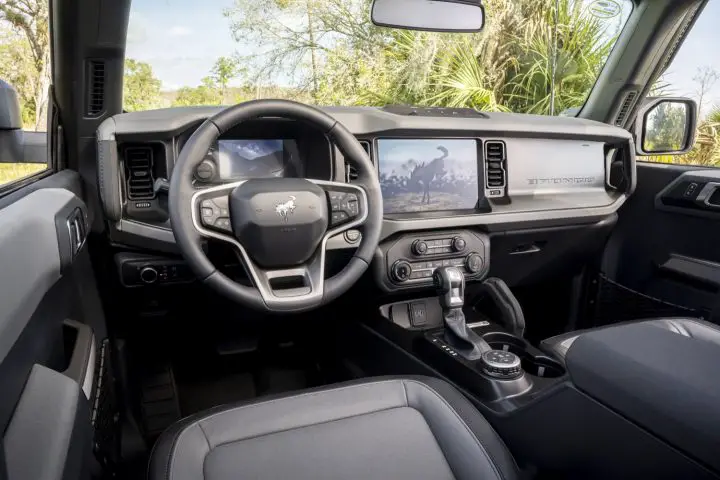 The Bad
The cabin is so spacious, in fact, that it can often feel a bit like Ford built a station wagon on top of a 4×4. The Bronco has a feeling similar to how I'd imagine the Griswold family Truckster would feel like on a lift kit. The big, bulky body is far less nimble and more difficult to maneuver off-road than a Wrangler or an FJ. Ford had to add trail sights just to see where your tires should be. The Bronco also weighs around 500-1,000 pounds more than comparable off-roaders at the same trim level. It's no surprise that their rock crawling packages include such stiff springs, as the truck is much more likely to rock back and forth with its extra weight and girth. To compensate for the Bronco's bulkier body, Ford has added a 360 camera, allowing the driver to navigate obstacles off-road, and be able to park at the grocery store on-road. The wide angles provide a broad field of view, useful for navigating rocks on the trail and toys in the driveway. Unfortunately, lower trim models don't include this feature, and Ford is only seemingly building low-end models this year, which is why none of the Broncos at the mall are ever parked straight.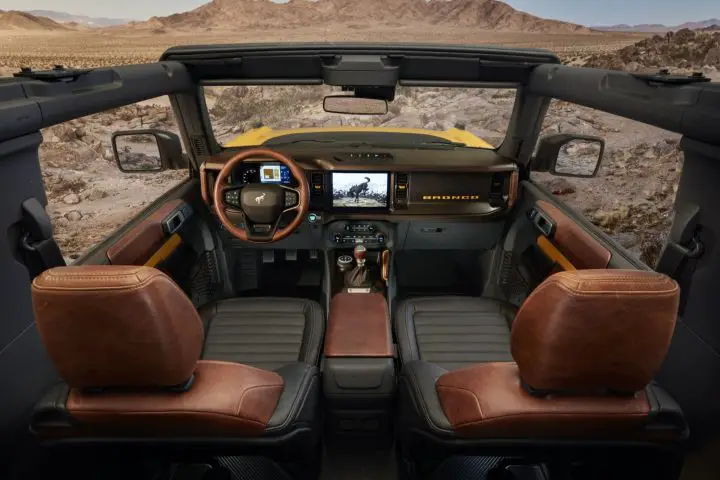 The interior has an innately cheap feeling to it too. The doors echo a hollow and cheap sound when closed, and an old school rattle when opened due to their poor frameless design. Neither the dash nor the doors are wrapped, leaving cheap exposed plastic materials that scratch far too easily. Even a careful and clean person can easily scratch the inside of the doors by simply opening and closing them regularly. By contrast, other modern off-roaders are either wrapped, or at least use softer rubber-like materials that don't scuff so easily. The Bronco, however is the cheap toy car interior you've always hated about Fords from the 1980s. Function follows form here, too: the auxiliary switches feel like cheap plastic, and have their own hollow feel when flipped. The top of the dash both looks and feels like Styrofoam, and it feels like it will break easily – please don't throw your phone down on my dash or you'll cause permanent damage. It seems Ford's only attempt to make this thing look good was to rubberize some of the controls, but even that feels more like they stretched a condom across the buttons than took the time to think through the design.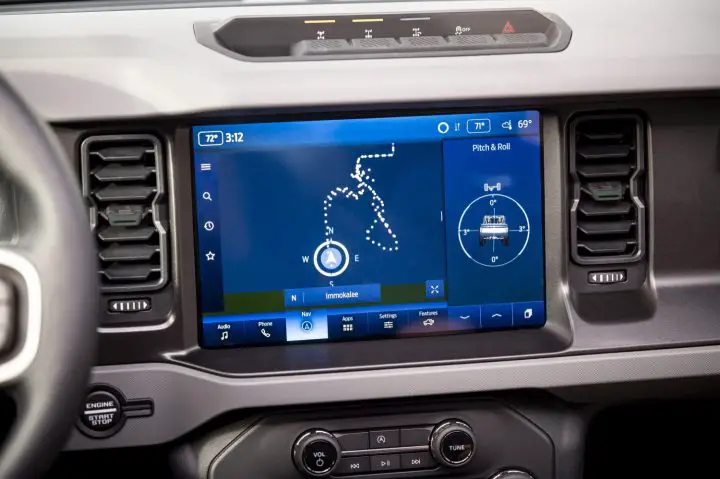 The Sync 4 infotainment system tries really hard to be advanced, but is so incredibly buggy that it is frustrating to use, and one of the most miserable experiences to owning a Bronco. Certain trims, including my Badlands Lux, have multiple reports of forgetting even the most basic navigation system settings, such as the map's orientation and full screen mode, the ambient lighting settings, or even the current XM station, requiring the driver to reconfigure the software every time they start the truck. Both Apple CarPlay and Android Auto are often sluggish and choppy for many, or cut out completely while driving. Many of these bugs came with more recent software updates, suggesting the quality of their software is getting even worse. All of this makes that gorgeous 12" screen much less useful. Even if Ford did fix all of their bugs, the Sync software itself is very bland and void of the kinds of features you see in other manufacturers packages. Chrysler's UConnect, by contrast, provides a feature rich, aesthetically pleasing, and highly customizable interface rather than Ford's bland blue screen with only a few very basic screens. Sync offers little more than a glorified radio and a mediocre navigation system. Ford has been quite lax in pushing out software updates, and as a customer you have no way to find out when a software update might be pushed to your vehicle. Some recent updates were recalled due to unforeseen bugs, and some customers have reported in forums that receiving an update has left them stranded with a disabled vehicle.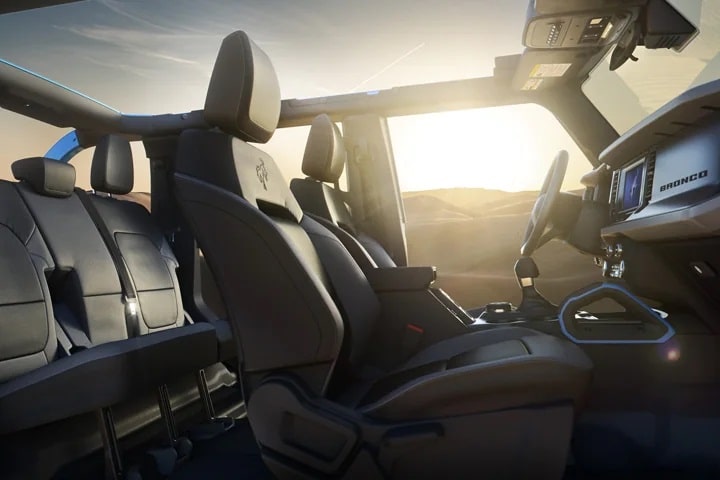 You'll definitely need to use that radio, as the Bronco is by far the noisiest modern off-roader I've driven. Wind noise is an order of magnitude louder than Jeep, where Ford's hard top is even several decibels louder than Jeep's Sky One-Touch Power Top. Ford's frameless windows design, while it made sense for aerodynamic Mustang windows, doesn't work so well for brick shaped vehicles. Wind noise that doesn't make it in through Ford's poor hard top seals or lack of soundproofing in the floor and doors is also likely to make it in through Ford's poor choice of window seal materials. That's when the windows close correctly. I often find myself having to perform a window retrain procedure once a month on average, or the windows will slam against the rubber seals when I close a door. During cold weather, the seals tend to shrink up and can even whistle (loudly!) when a cross wind hits the vehicle. At highway speeds over 65 in any climate, the noise is deafening. Don't expect to carry on conversations on the highway unless you like to yell, and forget about calling anybody. At least at low speeds, it quiets down a bit and the only thing you'll have to listen to is the clunky annoying droning of Ford's underpowered Ecoboost engine, which is also a lot louder than it should be.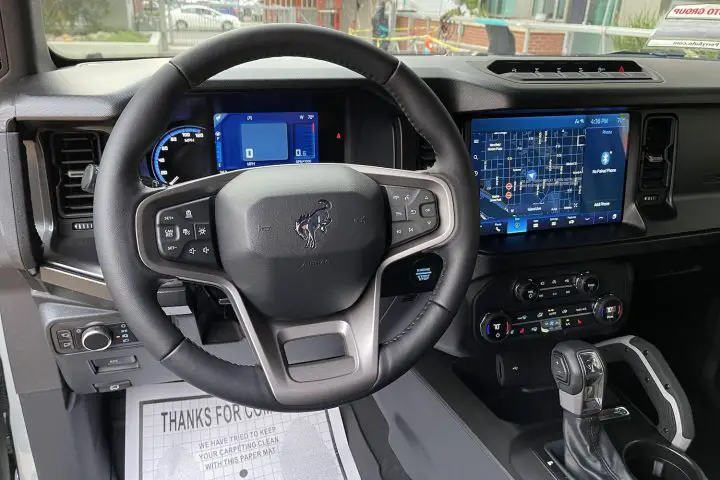 The Stupid
While we've already approached stupid territory covering the interior, there are several design decisions that cross the line into downright stupidity. The instrument cluster consists of a small screen poorly married to an analog speedometer, and positioned at the one leftmost place on the cluster that no normal person would ever look at it. I've tried to use the analog speedometer on several occasions, and due to its position, causes my eyes to be completely distracted from the road. What's a casual glance on any other vehicle could easily cause an accident in the Bronco due to its poor placement. Ford would have done much better to just extend the screen to the left edge and ditch the analog dial altogether. Right next to the analog speedometer (that you'll never look at) is a digital speedometer, which you will cringe every time you look at. You'll cringe because the digital speedometer was designed as a giant, meaningless thermometer on your screen that slowly fills up as you accelerate – but without providing any meaningful information in the graphic. Ford didn't add any labels or even tick marks to the readout, giving you absolutely nothing but wasted meaningless space. The tach was designed almost as poorly, with only meaningless tick marks having no labels. I've seen toy cars with better clusters, and would prefer a nicely designed sticker for a dash than what Ford has provided to look at.
Ford included power seats, but didn't include one of the most basic features – seat memory. If you're sharing the Bronco with another user, or take it in for service frequently (which you probably will), then you'll immediately notice this feature annoyingly missing. I guess if I were a Ford exec, I'd spin it positively by pointing out that it complements their theme of forgetting infotainment settings.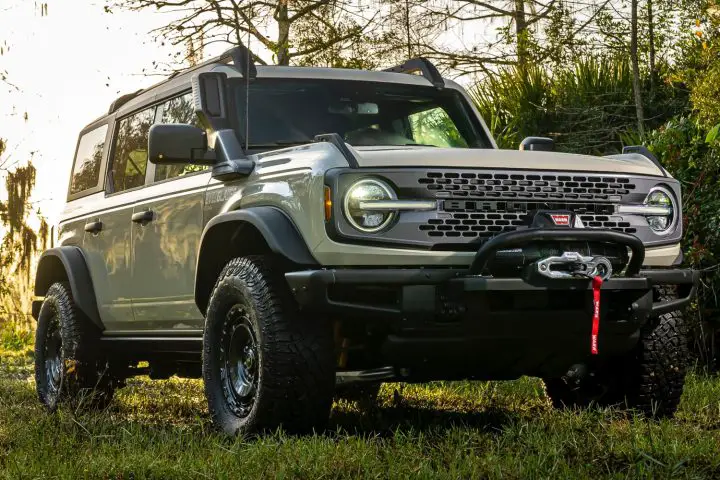 Higher trims include a full set of steel bash plates, yet for all that money, Ford didn't protect the transmission pan, which is literally a plastic pan on the bottom of the truck. What could possibly go wrong? Ask the people who have cracked their transmission pan, and they'll be glad to tell you.
As a company, Ford has got it together far less than any of their competitors. Three years in, and customers are still unable to purchase a Bronco with dual OE tops, modular tops, or many of the other options and accessories they promised. Ford is still poorly managing their supply chain, too. Getting a Bronco built is a long and sometimes multi-year process, and ordering one with the options you want may be impossible. Ford recently warned existing order holders that they'd have to cancel their hard top, Sasquatch package, and luxury options if they had any hope of getting their Bronco built in 2023. Their customer support also continues to prove frustratingly unhelpful, and often times incompetent. It took several calls and emails to executives just to report the many software problems they've recently introduced, as their front-line support agents don't have a process to accept bug reports. Ford still largely treats the dealers as their customers, rather than the people who actually pay for their vehicles. This has dramatically changed over the years with other manufacturers, and you'll find that companies like Chrysler have excellent customer service that only leaves Ford the dinosaur in the room.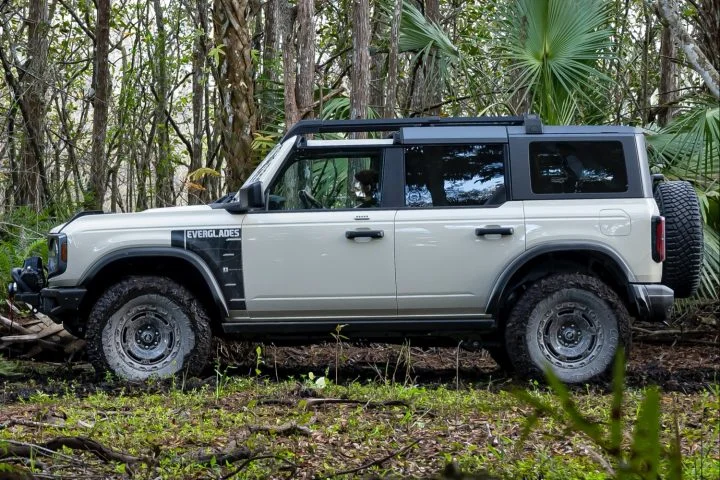 Conclusion
The Bronco is a mixed bag overall. Ford made a lot of trade-offs that make the Bronco a reasonable, though loud, family adventure vehicle with an impressive amount of off-road prowess from the factory, filling a niche Jeep has been missing out on. Unlike Jeep, though, the Bronco isn't a comfortable or practical daily driver, and not what many would consider a dedicated off-roader. Given the steadily increasing pricing of the Bronco, it "ain't no high-end vehicle" either; it feels like a cheap, ratty old pickup truck with a cardboard interior and an underpowered engine.
In spite of its shortcomings, the Bronco is still a lot of fun to drive, and will probably take you most places you want to go off-road. It's less nimble and more docile than a Jeep but is designed to be more of a family SUV than an apocalyptic off-roader. You're likely to be happier with a Bronco if you live in the south-west, where there's a lot of open space for off-roading, given its wide body. If you are looking to do more technical work off-road, such as along the East Coast, a Jeep would be more suitable for the terrain.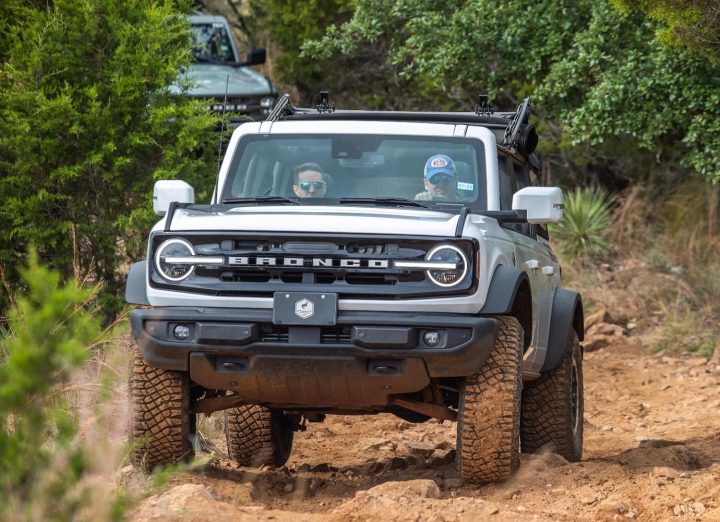 Yes, Bronco is definitely selling well, but Ford should be concerned that there are a growing turnover of customers whose honeymoon is over and are less than enthusiastic about their Bronco after some time. First Editions aren't even selling near sticker anymore. Dealerships are seeing more and more Broncos pile up on lots. What was the hot markup fad just a couple years ago is now getting harder and harder to sell. If Ford appears to be inundated with orders, it's only because they've been unable to fulfill them for several years now. There is no telling how many of those orders actually connect with the original customers, many have simply given up and moved on. Nevertheless, there is definitely a cult of Bronco – those who love everything about the Bronco simply because it brings back the nostalgia of earlier generations, or because they love the Ford brand, and are willing to look past its many shortcomings. That same cult can be found in Jeep as well, and is largely the reason Jeep hasn't had a reason to innovate for twenty years. Let's hope that doesn't happen to Ford. At least Jeep seems to have woken up to the fact that their customers have grown up and expect more for their money.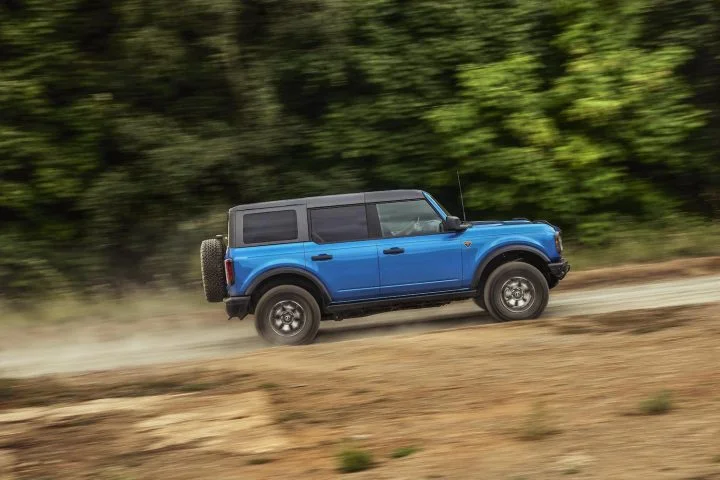 In addition to some of the undesirable traits of the Bronco, Ford's supply chain and factory process continue to be poorly managed. How embarrassing it must be for Ford to have to email their customers begging them to change their order. Problems continue to plague their manufacturing line as well, with recalls calling for complete engine replacements and problems with wheels literally falling off Broncos after customers take delivery. Such poor execution should make anyone want to run. Meanwhile, Chrysler is chugging right along with order fulfillment, and continuing to innovate with their 2024 MY by giving their apocalyptic off-roaders a quiet and luxurious interior. Warning shots have been fired.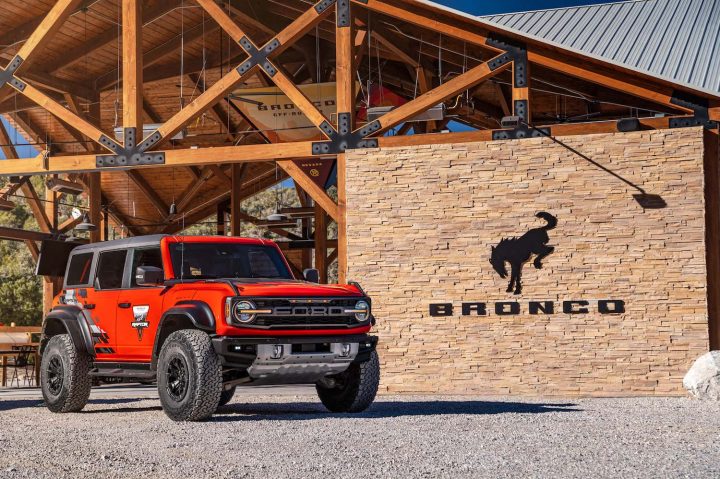 I've tried really hard to love it, but if I'm being honest, there is too much to not love about both Bronco and Ford. The company has long treated their customers with apathy, and it's shown in their design choices with the Bronco. They could have, with a little more ingenuity, designed things differently and really nailed it, but just like an M. Knight Shyamalan movie, they did so little with so much. I wouldn't count on Ford being able to fix the many supply chain and quality issues that have plagued them with the Bronco any time soon, quite frankly that would require a new CEO. They will have to do something to keep things moving though, as Ford's competitors have fiercely throw down the gauntlet for 2024 market share.
Ford may innovate to something more impressive in the next redesign, but first I'd like to see them get the current model right.
Once again, a special thanks to Jonathan for submitting this review! Subscribe to Ford Authority for more Ford Bronco news, and for comprehensive Ford news updates.
Interested in submitting a review of your own? Then simply reach out to the Ford Authority team at
[email protected]
!