Crashes happen every day in this world of ours, with varying degrees of seriousness. Over the past few years, this trend has only gotten worse as more and more people succumb to distractions rather than keeping their eyes glued to the road, meaning that the rest of us have to quite literally drive with our heads on a swivel. In this video from Crash Dashes, we have yet another example of a collision – this time between a Ford Explorer and a Ford Focus – that also demonstrates the differences between those two models in terms of crashworthiness.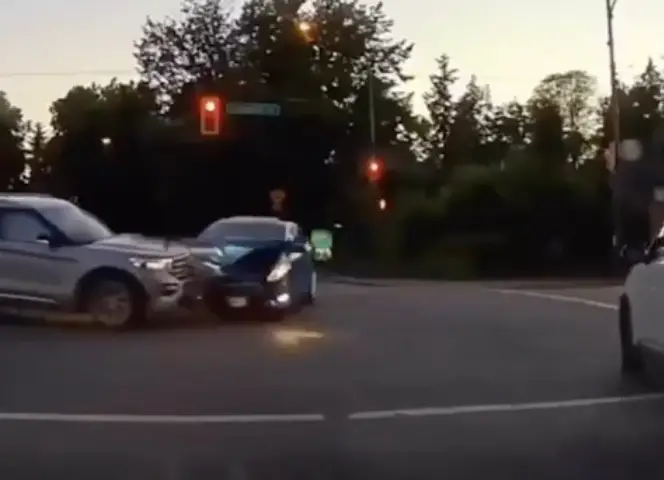 Recently, we saw what happens to a Focus when it's broadsided by a Ford F-150, and the results, well, they weren't pretty. That's also the case with this Ford Explorer on Focus crime, which happens when both vehicles are seemingly trying to beat the oncoming red light. The Focus driver is attempting to turn left, while the Explorer is heading toward it going straight through the intersection when both vehicles hit head on, leading to a rather fiery crash.
It seems as if the driver of the Focus thought that the Explorer was going to stop at the yellow light and proceeded to turn, but as most of us know quite well, we can never assume such things. Regardless, that bad decision resulted in two heavily damaged vehicles, though the Explorer seems to have fared a bit better, at least. As for the Focus, well, the entire front end is demolished upon impact, which can't be a good sign for its future prospects.
View this post on Instagram
Given what we know about the disparities between larger SUVs/trucks and smaller passenger cars, none of this comes as a surprise, but the Ford Explorer is also quite decorated in terms of safety recognitions. In fact, it was one of only four mid-size crossovers to achieve the highest-possilbe rating in revised Insurance Institute for Highway Safety (IIHS) 2.0 moderate front overlap crash testing, and also earned a 2023 IIHS Top Safety Pick.
We'll have more wild videos like this to share soon, so be sure and subscribe to Ford Authority for more Ford Explorer news and continuous Ford news coverage.