Most of us have seen our fair share of people trying to stuff massive things in small vehicles, perhaps even strapping those items to the roof or other parts of the car. This extends to truck owners as well, many of whom have exceeded their vehicle's maximum payload and/or towing capacity, oftentimes with disastrous results. That's precisely what happened to a Ford Focus owner recently, as we can see in this wild video recently posted on Instagram, which shows us what happens when a large, heavy load is placed on top of the compact car's roof.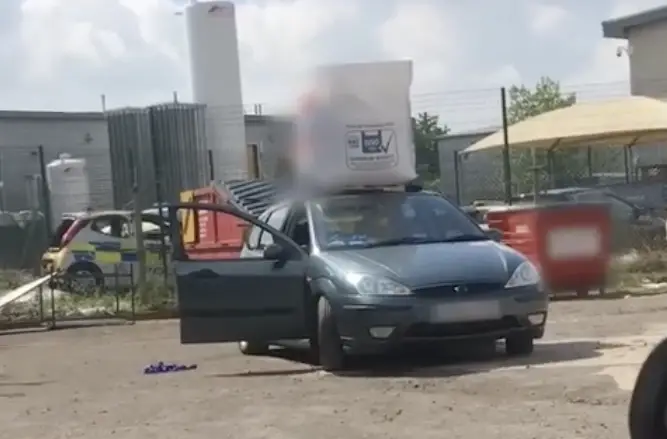 Recorded by a couple of folks sitting in a vehicle nearby – because who wouldn't want to document this wild scene for everyone to see? – we get a bit of narration that guides us through precisely what we're thinking – that the owner of this Ford Focus is a bit off in terms of how much weight he can strap to the roof. We're guessing that he told the poor forklift driver that this would work perfectly fine, and he obliges by carefully lowering what appears to be a very heavy load on top of its roof, which looks to be holding a wooden pallet as well.
Roof racks certainly make it possible to carry all sorts of things on vehicles that lack cargo space, but in this case, it's most definitely not rated to hold something as heavy as what's being dropped on it. The witnesses know that right off the bat, but can't help but watch in bewilderment. They contemplate whether or not they should try and stop what's happening, but ultimately opt to let nature run its course.
View this post on Instagram
As soon as the weight of the load is on the roof, we can clearly hear some popping noises, after which the roof is quite literally crushed underneath. The poor Focus hunches down over its tires as the suspension cries out for help, while the owner immediately realizes that he made a grave mistake. Humorously, he walks after the forklift driver as if to blame him for this horrible decision, which – if we actually need to remind everyone – is not something one should try to replicate at home or the local big box store.
We'll have more wild videos like this to share soon, so be sure and subscribe to Ford Authority for more Ford Focus news and continuous Ford news coverage.