While it's an iconic vehicle that deserves better, the Ford Mustang has developed a bit of an unsavory reputation over the years thanks to the fact that, well, lots of people tend to do dumb stuff and crash their pony cars. We've seen this happen time and time again, whether it be cars crashing while showing off leaving cars and coffee meets, smashing into a pole in a parking garage, wrecking while racing other cars, and pretty much any instance one can think of where a vehicle's capabilities overwhelm those of the person driving it. Now, we have yet another example of this embarrassing trend, which this time involves a Ford Mustang Shelby GT500 smashing into a Chevy Equinox.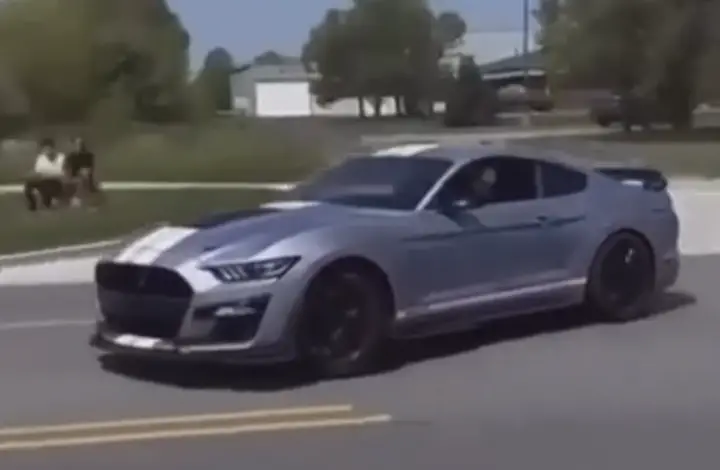 Making matters worse, this isn't just any old Ford Mustang Shelby GT500 – but rather, a Heritage Edition, which is a special variant that's covered in Brittany Blue paint with white stripes, paying homage to the 1967 model. Otherwise, this special variant is pretty much just a regular old GT500, which isn't a bad thing given the fact that it's packing the supercharged Ford 5.2L V8 Predator engine underhood, which generates a cool 760 horsepower and 625 pound-feet of torque.
That's obviously a lot of power for any vehicle, and in the case of what we're seeing here, far too much for the person driving it to handle. As they pull out onto the road, the driver gives it the beans, which works well for a second before the rear end loses traction, sending the car sideways.
Mustang owner crashes his brand new GT500 in the most cliche way.
by u/randomredditguy94 in IdiotsInCars
Unfortunately, there just so happens to be a Chevy Equinox in the other lane, which the Mustang proceeds to smash into, front fascia first. Luckily, at least the crossover driver was stopped, and the incident happened at a low enough speed that it likely didn't cause too much damage. Regardless, we have to imagine that the owner won't be so quick to floor it again, at least until they get a better feel for the car.
We'll have more wild videos like this to share soon, so be sure to subscribe to Ford Authority for more Ford Mustang news and continous Ford news coverage.