Ford Motor Company has filed a patent for a remote park assist feature with augmented reality that may be used in future Ford vehicles, Ford Authority has learned.
The patent was filed on November 24th, 2021, published on May 25th, 2023, and assigned serial number 0159019.
The Ford Authority Take
Over the past few months, Ford has filed a handful of patents that aim to automate the parking process, including one outlining an idea for an augmented reality system for parking, a vehicular remote control system, and key fobs with remote park-assist functionality, to name just a few. Now, this newly filed patent keeps the trend going by introducing an idea for a remote park assist feature with augmented reality that may be used in future Ford vehicles.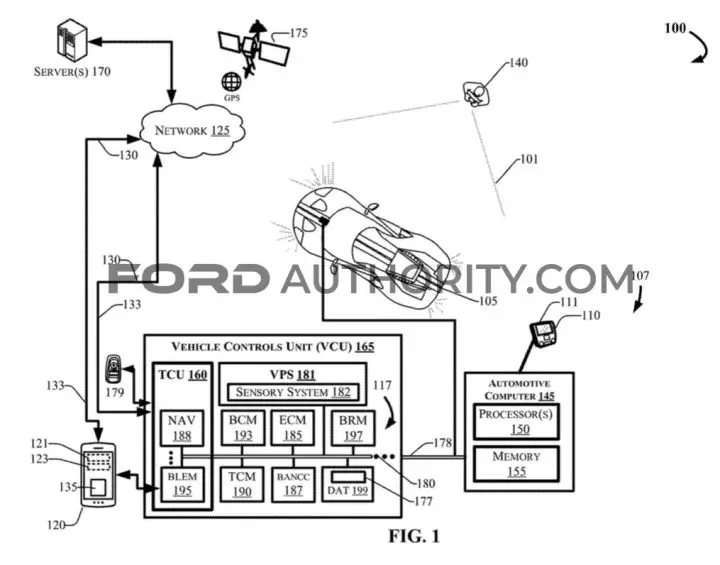 As is the case with the aforementioned patents, this new filing aims to make the process of parking simpler and more automated, though in this case, the proposed system would allows users to park their vehicles using their smartphones, even from longer distances. Those users could simply point their device in the general direction of the vehicle, at which point it would be able to automatically detect when the user wants to park it remotely.
From there, the smartphone would be able to project a three-dimensional model of the vehicle on a mobile device and establish a wireless connection. The system would also be able to detect the angle at which the vehicle is positioned and how it needs to maneuver to park in an available space, and then complete the remote parking job.
This is an interesting idea for certain, and one that could very well make its way to future Ford vehicles, particularly as autonomous models begin to become viable for road use. One day, we could certainly be parking our vehicles using nothing more than a smartphone app, which would be a big upgrade on the more manual process that it represents now.
We'll have more on this and all Ford patents soon, so be sure and subscribe to Ford Authority for the latest Ford patent news, Ford business news, and ongoing Ford news coverage.