As a popular choice on the new vehicle market, it's no surprise to see that the Ford Maverick has also inspired a number of aftermarket companies to churn out parts and accessories for the compact pickup, too. One of the more popular categories – for both the Maverick and most other vehicles – is exhaust system upgrades, and so far, owners can choose from offerings from the likes of MRT and Magnaflow, to name just a couple. Now, yet another long-time maker of aftermarket exhaust systems – Borla – is showing off its own Ford Maverick S-Type exhaust system in a new video.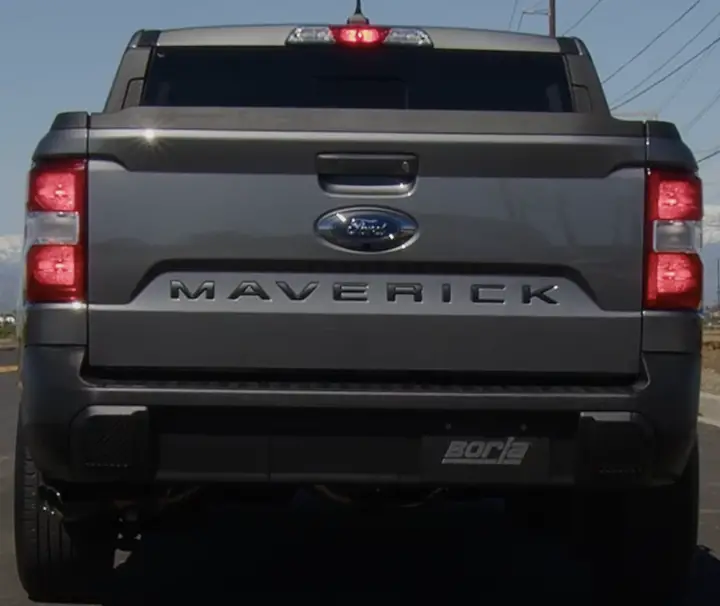 Though it hasn't yet released all of the details regarding its new Ford Maverick exhaust, we do know that this new S-Type offering is a cat-back system designed to work with models equipped with the turbocharged Ford 2.0L I-4 EcoBoost engine, specifically. The company currently offers three different types of exhaust systems for a variety of vehicles – ATAK, S-Type, and Touring, each with its own unique characteristics.
As far as the S-Type exhaust goes, it's designed to provide a more aggressive sound without any sort of annoying drone on the highway while also freeing up airflow and, as a result, some extra performance. Borla's S-Type exhaust systems are also designed to fit each vehicle perfectly and stand the test of time thanks to quality construction and the use of stainless steel.
In this video, Borla gives us a preview of what the new Ford Maverick S-Type exhaust system will sound like, and right off the bat, it emits a deeper tone upon startup, as well as throughout the rev range. It's certainly sportier than the stock, rather quiet pipes, and as such, we imagine that more than a few owners will be interested in purchasing it.
We'll have more parts and accessories to share soon, so be sure and subscribe to Ford Authority for more Ford Maverick news and continuous Ford news coverage.