Since its launch, we've seen the 2023 Ford F-150 Raptor R hit the dyno and show off its supercharged Ford 5.2L V8 powerplant – which is factory rated at 700 horsepower and 640 pound-feet of torque – read all the universal praise the press has bestowed upon it, and even watched the muscular pickup take down a Toyota GR Supra in a drag race. Now, the 2023 Ford F-150 Raptor R has once again participated in Hoonigan's This vs. That series, this time against a modified C6 Corvette.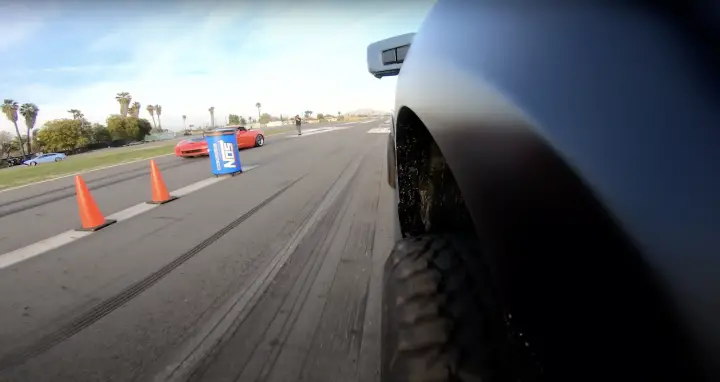 Before that particular race, however, the Corvette was set to take on a 2018 Ford F-150 Raptor, though this is no stock pickup. Rather, the hauler is packing a punched-out, twin-turbocharged Ford 5.0L V8 Coyote underhood making a whopping 1,017 horsepower. It seems like a pretty good match for the C6 and its 550 rear-wheel horsepower coming from a naturally-aspirated 6.2L V8, since the fiberglass sports car weighs nearly half as much as the off-road pickup.
Problem is, the Raptor had some mechanical issues during testing, which means that the Hooligans needed something else to lineup against the Corvette on this particular day, as that car belongs to a customer. Luckily, the crew also just so happened to have the 2023 Ford F-150 Raptor handy from its previous race against the Supra, so that makes for an interesting fill-in.
In the first head-to-head dig race, these two very different vehicles stay neck-and-neck until the Corvette begins to pull away halfway down the track, taking home the first win. Thus, for the second round, the F-150 Raptor R gets a two-car jump start in a 500-foot race, and it winds up capitalizing by evening things up. For the third and final race, the Corvette manages to make up that ground over the course of 1,000 feet – though it's a pretty close result – once again showing off just how impressive the V8-powered Raptor R truly is.
We'll have more on the Raptor R soon, so be sure and subscribe to Ford Authority for the latest Ford F-150 news, Ford F-150 Raptor news, and ongoing Ford news coverage.