In recent months, a number of Blue Oval products have fared rather well in Insurance Institute for Highway Safety (IIHS) safety testing, with the Ford Mustang Mach-E and Ford Escape both receiving high marks in the recently updated moderate front overlap crash test and the Ford Explorer earning an IIHS Top Safety Pick award for 2023. As for the outgoing Ford Ranger, the 2022 model earned a rating of "acceptable" in the newer IIHS side-impact evaluation test, but now, it has only managed to score a "marginal" rating in the organization's newly updated moderate overlap front crash test.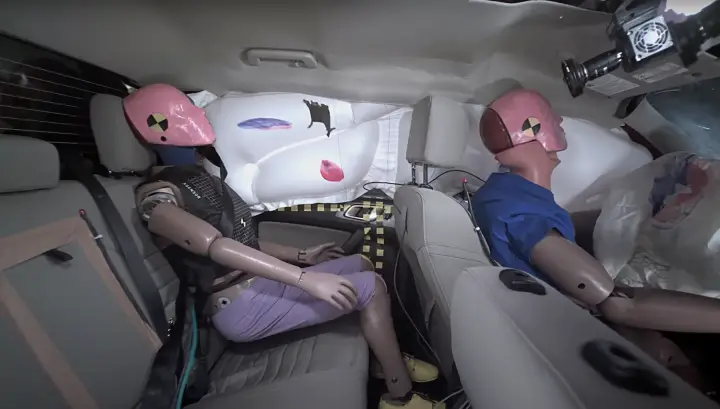 It is worth noting that the Ford Ranger wasn't alone in this regard – no smaller crew cab/SuperCrew pickups tested by IIHS this go-round were able to earn a "good" rating, with the Nissan Frontier performing the best with a rating of "acceptable." The Ranger was behind it with that marginal rating, followed by the Chevrolet Colorado, Jeep Gladiator, and Toyota Tacoma, each of which received the lowest possible rating of "poor."
In terms of individual categories, the Ford Ranger did manage to earn good ratings in virtually every regard, including structure and safety cage, head and neck injury, chest, knee and thigh, leg and foot, as well as restraints and kinematics, all for the driver. However, for rear passengers, head/neck and thigh were the only categories that ranked as good, while chest received a rating of marginal and rear passenger restraints and kinetics provided poor results.
"Our updated moderate overlap front crash test proved to be challenging for small pickups," said IIHS President David Harkey. "A common problem was that the rear passenger dummy's head came dangerously close to the front seatback, and in many cases, dummy measurements indicated a risk of neck or chest injuries. All these things tell us that the rear seat belts need improvement."
We'll have more on the Ranger soon, so be sure and subscribe to Ford Authority for the latest Ford Ranger news and continuous Ford news coverage.