The 2023 Ford Super Duty brings quite a bit of all-new and upgraded capability to the heavy duty pickup line, debuting last September with an all-new 6.8L V8 engine, an incredible payload and towing capacity, Pro Power Onboard and state-of-the-art tech for features like Pro Trailer Hitch Assist. One of the biggest changes for the 2023 Super Duty is its completely overhauled cab, which includes an advanced head-up display (HUD), something that FoMoCo recently outlined in more detail than before.
While driving the 2023 Ford Super Duty, one might feel like they've taken control of a fighter jet thanks to all the driver-facing features and information displays. Such a comparison would be spot-on, as The Blue Oval found inspiration for its HUD in fighter jet planes. The HUD is designed to quickly relay important information to drivers without distracting them from the road for too long. This is accomplished by projecting information in front of the driver on the lower half of the windshield, bringing important readouts closer to the driver's direct line of sight.
"We wanted to create an amazing digital experience for our most-focused truck customers, and our research led us to look at aircraft HUD concepts because of their task-oriented hierarchal structures," said Mark Sich, Ford digital design manager. "But because pilots are trained to read information in a very prescribed and technical manner, our implementation needed the interaction to be more intuitive for the driver to immediately understand the context of the information being presented."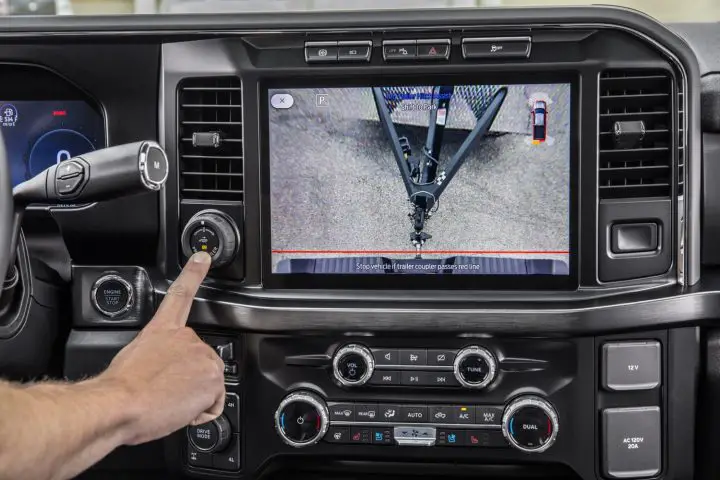 The view can be customized to provide information at-a-glance most relevant to a particular trip. Three selectable modes are available, including Normal Mode, Tow-Haul Mode or Off-Road Mode. Normal Mode displays things like speed, speed limit and navigation, while Tow-Haul Mode includes a tachometer, gear and trailer brake output. Finally, Off-Road Mode also displays a tach, while also reporting drive line status and vehicle pitch and roll. The display is also able to change automatically according to what drive mode is selected.
Aside from just being downright cool, the HUD also helps improve safety while driving the 2023 Ford Super Duty, as previously reported by Ford Authority. Keeping eyes on the road means reduced risk of a crash, because things can happen quickly.