Set to receive a mid-cycle refresh, Ford Authority has spotted a number of 2024 Ford Explorer prototypes out and about, including an ST and a Timberline, as well as the crossover's updated interior and its platform mate, the 2024 Lincoln Aviator. However, thus far, those prototypes have been covered in heavy camo, largely concealing any potential exterior updates that might be in store for the North American version of the crossover. We say this because the refreshed Chinese Explorer launched last October, and will soon be joined by a unique Timberline variant. Previously, it was unclear if the North American 2024 Ford Explorer would utilize any of that model's styling features, but these new photos seem to indicate that it will to some extent.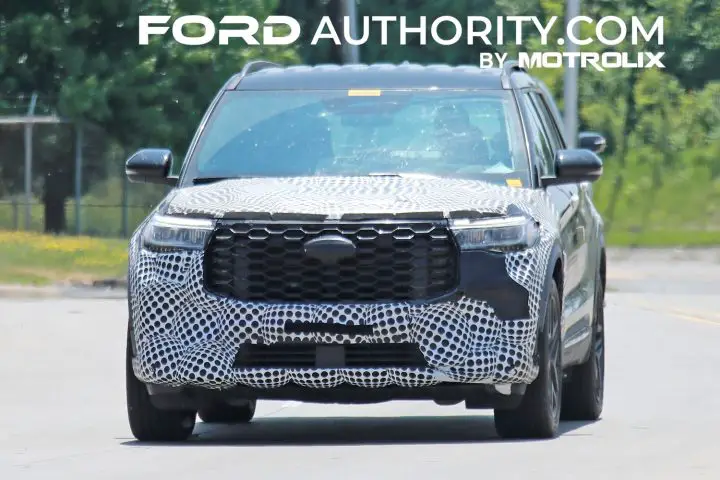 Based on the headlight and front grille design (which has a strip of adhesive above the lower portion that isn't actually a slot), it certainly seems like this prototype is a clear indication that the North American 2024 Ford Explorer will look like its Chinese counterpart. Based on the grille and 20-inch wheels – which are a new design – this particular model appears to be an XLT with a revised version of the XLT Sport Appearance Package, which features the same sort of wheels, albeit with a different look.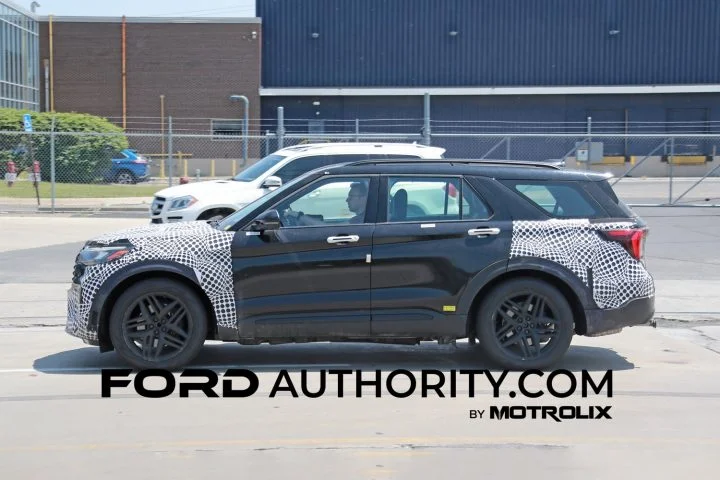 Though the camo wrap on this prototype makes it difficult to tell, it does seem like the areas to the side of the lower grille will look much like the ones on the Chinese Explorer, which incorporates vertically-oriented LED lighting there.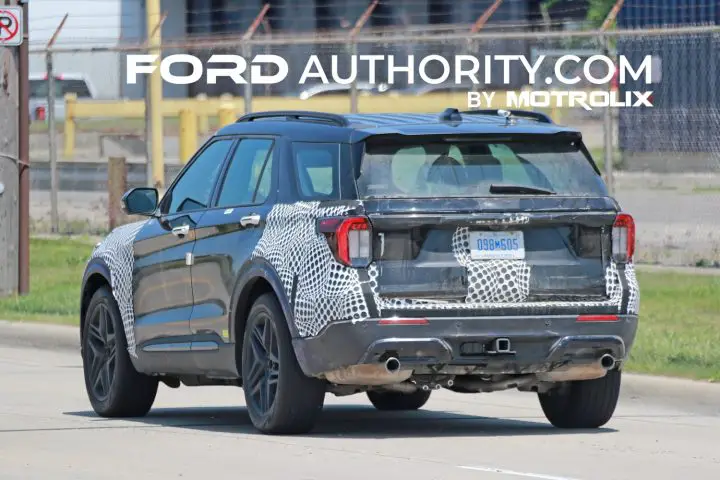 In the rear, it seems as if the N/A 2024 Explorer will feature some sort of horizontal strip that essentially connects the taillights, though this particular example features a slightly different design than the Chinese version, which doesn't have the three little notches under the top of the C-clamp light. This suggests that the horizontal strip of lights will be flipped from where it is on the Chinese version – moving to the bottom, rather than the top. Either way, this look is different than the current North American Explorer and its two vertically-oriented segments.
Also, on the bottom part of the taillight, there appears to be tape present here, which indicates that it will likely still employ the C-clamp design. As for the tailgate, it appears to utilize the same overall basic shape as the Chinese version, too.
We'll have more on the 2024 Ford Explorer soon, so subscribe to Ford Authority for the latest Ford Explorer news and continuous Ford news coverage.