As the Ford Maverick enters its third model year, it appears The Blue Oval is set to introduce an intriguing package into the lineup. Our exclusive coverage of this upcoming change has already lifted the veil on what prospective buyers can anticipate, at least in a broad sense. And now, our photographers have spotted two examples of the pickup in public for the first time.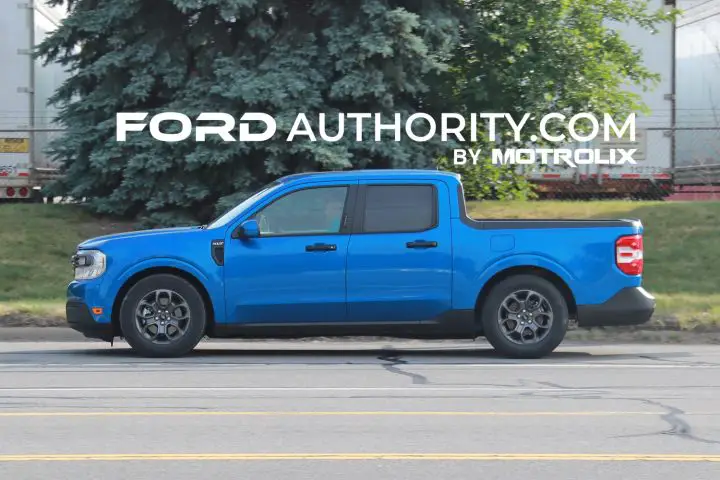 Even a cursory glance at this particular 2024 Ford Maverick reveals that it has been lowered, presumably by an inch or so. Other than that, it seems that these "street performance" pickups will not significantly deviate aesthetically from the rest of the lineup. In fact, those appear to be a slightly darker version of the 17-inch wheels that are currently standard on XLT. Also notable are the body-color side mirror skull caps, which are currently only paired with the XLT Luxury Package and the Tremor Off-Road Package.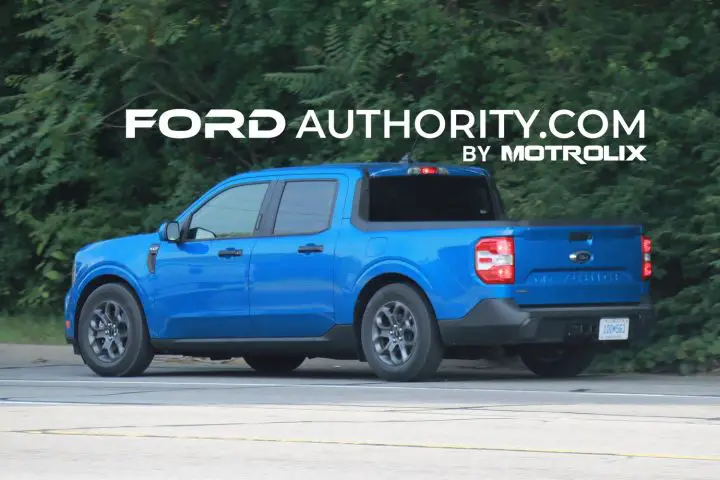 As seen from another angle, this 2024 Ford Maverick also offers some clues on how broadly this package might be offered throughout the lineup. For starters, that's clearly a hybrid badge on the tailgate, which means whatever street oriented package this turns out to be, it won't be restricted to 2.0L EcoBoost I-4 pickups. That's not a huge revelation, as a fair number of packages are available on multiple trims, including but not limited to the FX4 Package and 4K Tow Package, among others. Additionally, the trailer hitch receiver is present on this pickup, a sign that there might not be too many restrictions when buyers opt for this package or suspension setup.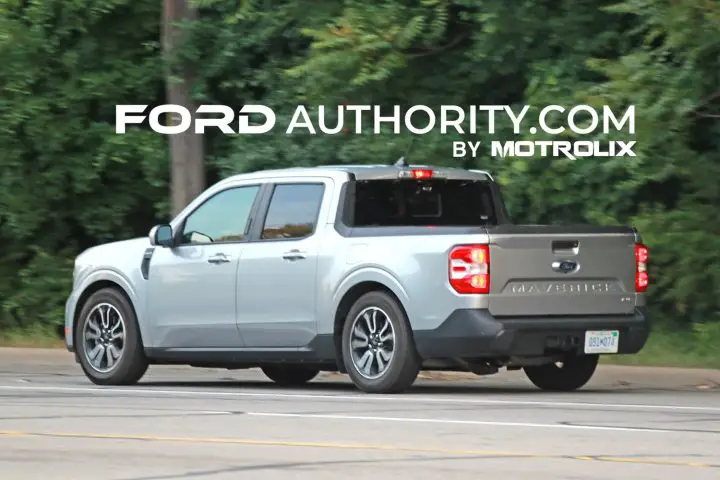 Our second featured 2024 Ford Maverick pickup is a Lariat, sporting the optional 18-inch aluminum wheels available on that trim, along with a trailer receiver hitch of its own. It also prominently display an "AWD" badge on its tailgate, which clearly means it has the 2.0L EcoBoost under its hood. Otherwise, its appearance does not seem to deviate from the 2023 Ford Maverick Lariat. At this point, it is currently unclear if the package or suspension option will come with any powertrain upgrades or changes, but we will know more in July, as the order banks are expected to open on the 17th of the month. Currently, the automaker has been producing much greater quantities of the pickup than before, but still faces a significant backlog of hybrid orders, due to battery supply chain issues.
We'll have more on the 2024 Ford Maverick soon, so subscribe to Ford Authority for the latest Ford Maverick news, and for continuous Ford news updates.