Advanced Fiberglass Concepts (ADV) originally announced that it was developing a fiberglass Ford Bronco hardtop back in early 2022, a move that came largely in response to The Blue Oval's difficulties securing molded-in color hardtops from its supplier, Webasto. There is certainly some pent up demand for Ford Bronco hardtops as a result, even though the aftermarket piece isn't exactly cheap with an MSRP north of $5,000. Regardless, final assembly on ADV's new fiberglass Ford Bronco top just began earlier this month, and recently, the company gave us a closer look at the finished product. Now, ADV is back with a new video comparing its Ford Bronco hardtop against the OEM MIC unit in great detail.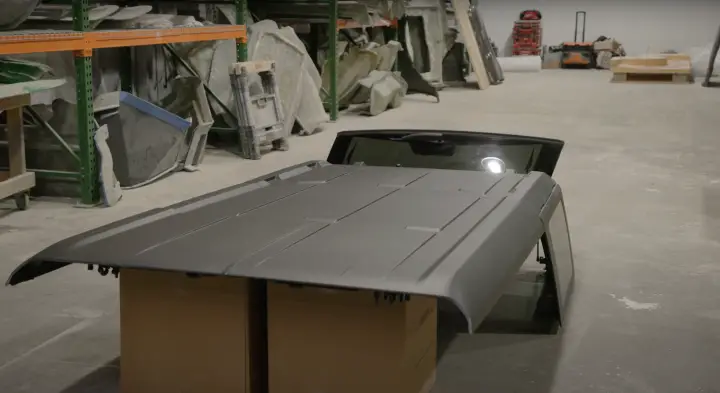 There are – by design – a number of differences between the ADV Ford Bronco fiberglass top and the factory molded-in color unit, each of which are intended to make it a superior product. For starters, the factory top is gray, which somewhat clashes with the black trim present on the SUV. Outside of presenting a bit of a mismatch, the MIC unit is also impossible to touch up if it gets scratched, and replacement parts may not match very well, either. The fiberglass top can, on the other hand, and it's finished in black as well.
ADV also decided to ditch the factory four-piece top design in favor of a two-piece by eliminating the center section – which also prevents flex, squeaks, and leaks, according to the company, as well as making it stronger. Thanks to the addition of a rubber seal, ADV also notes that its top is less likely to leak, and it provides a better seal as well, which should cut down on noise inside the cabin.
There are many other smaller differences worth noting here as well, including the relocated wiper assembly and rear glass that opens up higher – perfect for taller people. Thanks to its construction, the ADV top doesn't shrink and expand like the MIC top with temperature changes either, which should ensure a better fit for years to come. Overall, it seems like this fiberglass unit offers quite a few advantages over the OEM piece, which figures to make it popular among Bronco owners.
We'll have more Bronco aftermarket parts and accessories soon, so be sure and subscribe to Ford Authority for more Ford Bronco news and ongoing Ford news coverage.