Long an incredibly popular model all around the globe, the Ford Mustang is mostly known for being an excellent sports car, one that has universal appeal in a way that most vehicles can only aspire to. However, the Ford Mustang is also plagued by a bit of an unsavory reputation for being easy to crash, which is true of most powerful real-wheel drive vehicles, if the driver behind the wheel doesn't have the skills to match its capabilities. We've seen this happen time and time again over the years, whether it be Mustangs crashing while showing off leaving cars and coffee meets, smashing into a pole in a parking garage, or wrecking while racing other cars. However, this trend isn't just exclusive to the U.S., either, as we can see in this video documenting a similar incident in Poland.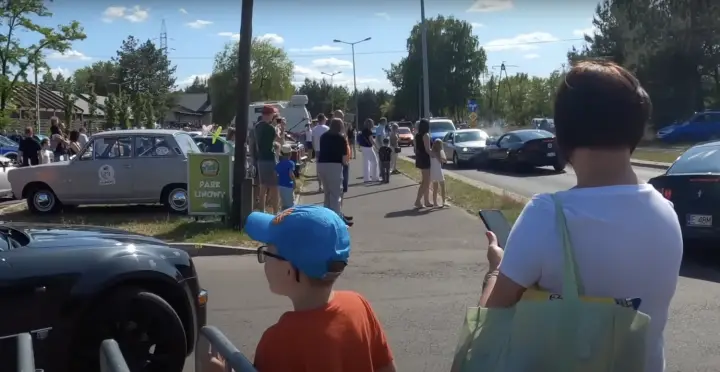 In the video, we can see a bystander filming cars as they're leaving what appears to be some sort of car show or meet in Tomaszów Mazowiecki, Poland, which a rather large crowd seems to be enjoying. The video begins as a Ford F-150 is pulling out of the parking lot, but ahead of it, we can see and hear a Ford Mustang giving it the beans, attempting to show off for the adoring crowd.
However, there's also an S197 generation Mustang behind the pickup, and he tries to do the same – albeit with very different results. The pony car's driver whips the steering wheel to the left as he pulls out onto the road, simultaneously planting his right foot, which causes the Mustang to break traction and careen wildly out of control. Unfortunately, there's a car stopped in the opposite direction, and its driver has nowhere to go as the pony car smashes into its front end.
Luckily, police were nearby, and it doesn't seem as if anyone was hurt in the incident, as the driver of the car that got hit actually hopped right out. Regardless, this incident is yet another black eye for the beloved Mustang, which truly doesn't deserve this unsavory reputation that it has been straddled with over the years.
We'll have more wild videos like this to share soon, so be sure to subscribe to Ford Authority for more Ford Mustang news and continuous Ford news coverage.