While the debut of the redesigned S650 generation 2024 Ford Mustang was obviously a big deal, news of a new range-topping variant -the Dark Horse – was a bit of an unexpected yet pleasant surprise. This brand new model also represents the start of a new motorsports push that will result in multiple racers competing in various series across the globe, including GT3 and the 24 Hours of Le Mans, where The Blue Oval last claimed victory with the now-discontinued Ford GT. As one would imagine, this means that the new Ford Mustang would need to be subjected to some extensive aerodynamics testing, and now, FoMoCo has shed some light on how that particular process worked.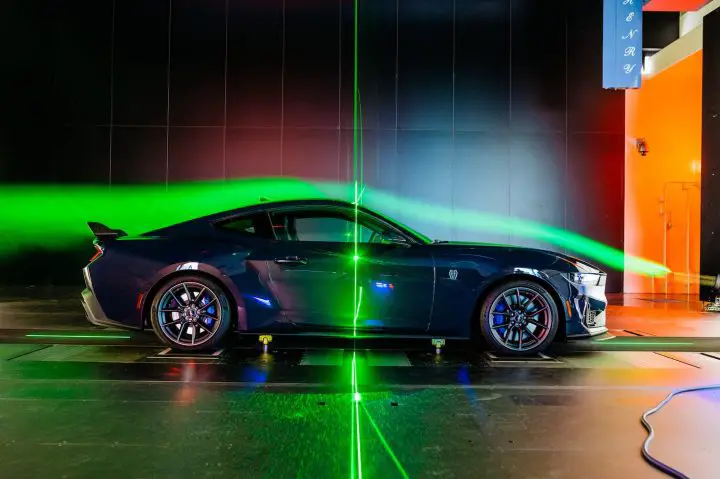 Wind tunnels have been a big part of the automobile development process for a very long time, but with the latest Ford Mustang, The Blue Oval also incorporated a vehicle-sized treadmill into this tried-and-true method. The resulting apparatus – officially called the Rolling Road Wind Tunnel (RRWT) – is capable of simulating wind and road surface speeds of up to 200 miles-per-hour, making it suitable not only for tweaking aerodynamic performance, but also efficiency, which is why it's being used to developed next-gen all-electric, hybrid, and gas vehicles.
The beauty of RRWT is that it provides more accurate wind drag and downforce data than traditional wind tunnels, all while enabling more in-house testing that simulates open-road conditions, which can help reduce design costs while also speeding up that same process. It accomplishes this by using a five-belt rolling road system wherein each wheel gets its own belt. A large, fifth belt resides under the center of the vehicle, while a crane is used to switch between the five belt and single belt systems.
The Ford Mustang Dark Horse was one of the first vehicles subjected to the RRWT for testing purposes, which generates extra downforce using a Gurney flap, underbody strakes, a redesigned front bumper, a lower valence, a spoiler, and unique wheels, features that also aid cooling efforts and help reduce front lift.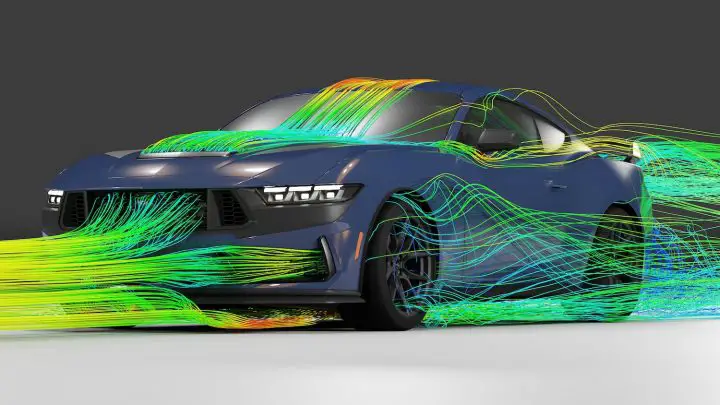 "We spent approximately 250 hours in the wind tunnel developing the 2024 Ford Mustang which includes Dark Horse," said Program Aerodynamicists for Mustang and Bronco, Jonathan Gesek. "The aerodynamics of Mustang Dark Horse along with several other factors have created the most track- and street-capable 5.0-liter Mustang to date."
We'll have more on the Mustang soon, so be sure and subscribe to Ford Authority for more Ford Mustang news and non-stop Ford news coverage.