Hailie Deegan took control of the No. 13 NASCAR Ford F-150 in the Truck Series at the start of the 2023 Cup Series season, and has kept a detailed video diary of her escapades behind the wheel of her race truck. Unfortunately, Deegan wrecked at Gateway on June 3rd, 2023, despite opening the weekend with high hopes for her Blue Oval racing team.
"This is one of my favorite tracks that we go to in the season," Deegan says at the start of the video, unaware of what fate awaits her by the time race day rolls around. "I've had quite a few laps here… it's just fun. It's the only circle track that we actually shift at, which is very, very rare."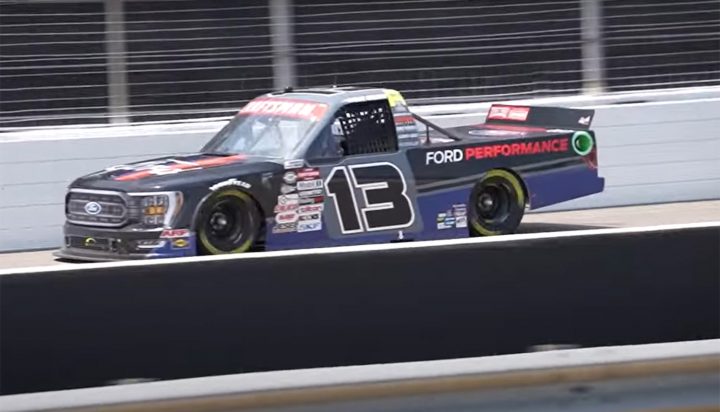 Deegan and the No. 13 NASCAR Ford F-150 turn some decent laps in practice, making adjustments to help her race truck handle turns better. In qualifying, she admits that she makes a mistake in Turns 3 and 4, which hurts her in terms of starting position, but she remains optimistic that she can turn things around during the race.
When the green flag drops on the race, Deegan gets to work wheeling the No. 13 NASCAR Ford around Gateway. Her spotter remarks that she is "way faster" than the other trucks, and she races up to seventh place during a green flag run.
Then, disaster strikes. While running in 12th, Deegan's No. 13 F-150 is on the receiving end of a misplaced shove from the No. 2 Chevy Silverado RST of Nick Sanchez. The impact forces the No. 13 F-150 to look low as Deegan tries to hold onto it, but then it snaps the other way and plows into the wall. Luckily, Deegan isn't injured in the wreck, and is able to exit under her own power.
"We had all that speed," Deegan says after the fact. "We finally got track position on a little bit older tires, but we were still pretty even… the 2 had a run out back, hit me once, and then locked onto me…. Just shipped me off. Killed our truck… plain and simple. Shipped us."
She adds, "But that's the Truck Series. Typical Truck Series racing."
Subscribe to Ford Authority for more NASCAR news, Ford F-150 news and 24/7 Ford news coverage.