At Talladega Superspeedway on April 23rd, 2023, a dramatic wreck unfolded between the No. 5 Chevy Camaro ZL1 of Kyle Larson and the No. 41 Ford Mustang of Ryan Preece. Larson's No. 5 Camaro had been forced off the racetrack before spinning back into traffic, and Preece's No. 41 Mustang had nowhere to go. Thankfully, both drivers walked away, but the severe damage prompted the sanctioning body to make significant changes to the NASCAR Next Gen race cars for improved crash safety.
Replicating the crash between Preece's No. 41 Mustang and Larson's No. 5 Camaro, NASCAR engineers took a hard look at how both race cars behaved in the impact and implemented changes accordingly. The crux of the changes relates to mitigating the stiffness of the NASCAR Next Gen cars' front ends, which involved softening the front clips, front ballast box and front bumper struts. Teams will be required to install a 0.60-inch right side steel door plate for extra protection, along with two left side door gussets and an additional tube in the left side of the main cage.
"We've taken a lot of the steel structural members and removed material from key elements to make this structure less stiff," Dr. John Patalak, NASCAR vice president of safety engineering, explained in a statement. "We have slots on both sides, we have deleted some cross members between the upright mounts and we've treated some of the areas down low that are some of the first to contact the wall on the front clip."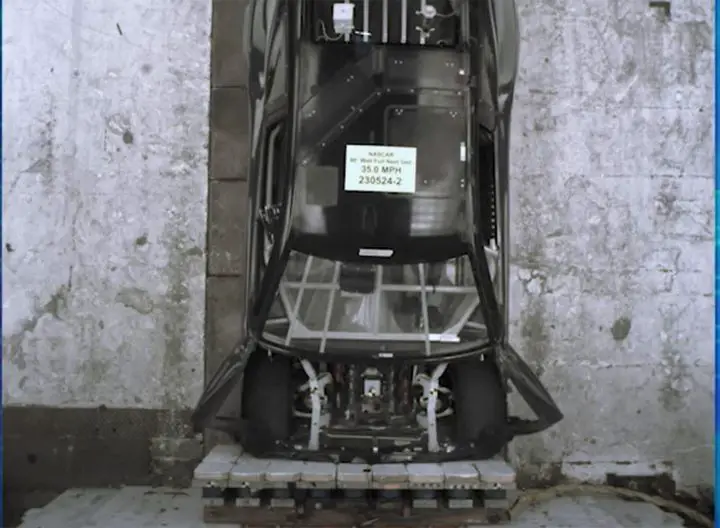 He added, "We've also added slots to this ballast container as well as some holes, and it's all an effort to increase the amount of displacement we're getting out of the car and to reduce the accelerations that the driver is experiencing."
The changes will be implemented at Atlanta Motor Speedway for the Cup Series race on Sunday, July 9th, 2023.
NASCAR announces significant safety updates to the Next Gen car following the crash involving the Nos. 5 and 41 cars at Talladega.

These changes are set to debut at Atlanta Motor Speedway. pic.twitter.com/bPoOGMRSGb

— NASCAR (@NASCAR) June 8, 2023
The NASCAR Next Gen Mustang is currently in its second year of competition after debuting for the 2022 Cup Series season. There have been some growing pains – last year, NASCAR implemented similar fixes to soften rear-end impacts. However, other incidents, such as Chris Buescher's end-over-end crash in the No. 17 Mustang at Charlotte in 2022, have proven the safety of the NASCAR Next Gen race cars.
Subscribe to Ford Authority for more Ford racing news, NASCAR news, and ongoing Ford news coverage.