Last August, we got our first look at a special Ford Mustang Shelby GT350 prototype equipped with the Ford 7.3L V8 Godzilla powerplant, which was actually a testbed for the the automaker's manual transmission control pack and engine crate combination. There was, however, just one problem with this particular combination – the stock intake manifold is very tall, meaning that it wasn't a great fit for this car or many other applications. Ford has been working on a new intake manifold that aims to rectify that issue, later showing off a prototype for a new, more compact piece, and now, the production version has officially debuted.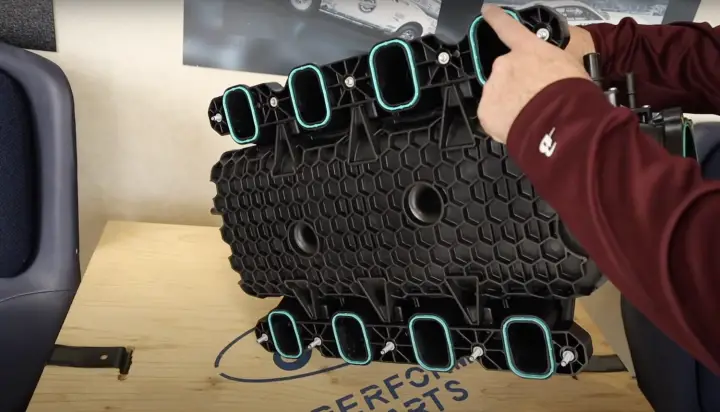 Mark Wilson of Ford Performance recently gave YouTuber REVan Evan special access to this new Ford 7.3L V8 intake manifold, which we can all now check out via the video below. The new part will soon be sold via the Ford Performance catalog under part number M-9424-37LP, and it features a "straight-out" inlet that makes it rather low-profile, perfect for squeezing the Godzilla motor in all sorts of applications – including the S550 generation Mustang. It's also a direct plug and play installation on existing Godzilla powerplants, making it attractive for Super Duty owners as a true bolt-on piece, according to Wilson.
Wilson notes that the new intake is lightweight and capable of handling boost and/or nitrous with no problem, and it looks quite nice with a black finish and a red "Ford Performance" logo on top. It's a big change from the prototype, which was merely a low-profile intake with no sort of special decoration.
In addition to providing a better fit, the intake features a larger, 90mm inlet, with revised runner lengths that add more power to boot. Wilson doesn't talk power figures in the video, but the prototype added around 10 horsepower and 15 pound-feet of torque, while also increasing the latter throughout the rpm range on the dyno.
We'll have more on all new Ford parts and accessories soon, so be sure and subscribe to Ford Authority for comprehensive Ford news coverage.