The S650 Ford Mustang is a redesigned pony car with big ambitions. As Ford Authority has extensively reported, the debut of the 2024 Ford Mustang lineup is only the start, as Ford Performance is planning to utilize the Mustang to expand its motorsport offerings, with the Dark Horse and with the recently revealed 2024 Ford Mustang GT3. Now our photographers have spotted what appears to be some type of GT3 out testing, but it's identity may have already been outlined by Ford Motor Company CEO Jim Farley three months ago.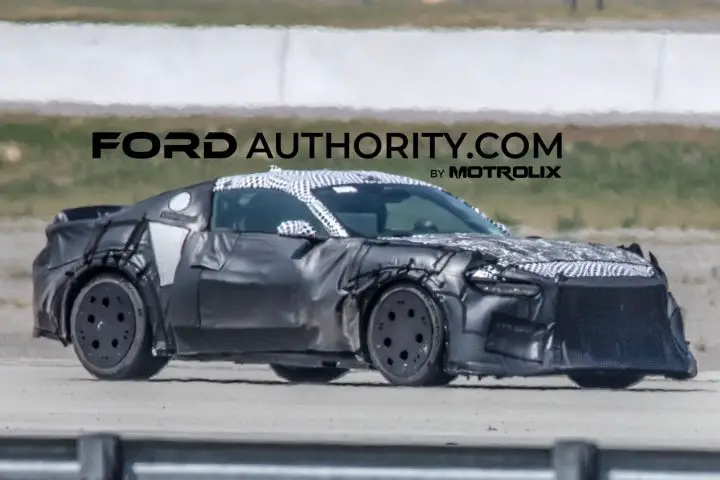 Obviously, whatever this Mustang will become isn't currently clear, and the heavy cladding makes it hard to deliver a definitive conclusion as to what's under all that camouflage. A road going Ford Mustang GT3 is certainly one possibility, as Farley asked Twitter back in March 2023 if the company should build one. If the vehicle seen here is that car, then it could build on the 2024 Ford Mustang GT3 that the automaker officially revealed earlier this month. That vehicle utilizes a 5.4L V8 based on the venerable Ford 5.0L V8 Coyote, which itself was redesigned for the S650. The GT3 designed for racing teams also features a rear-mounted transaxle gearbox, a bespoke short-long arm suspension, and carbon fiber bodywork.  It is headed for Le Mans and various teams are planning to run it themselves at the 2024 FIA World Endurance Championship. The aggressive front splitter that appears to be hiding underneath that cladding could certainly be from the GT3.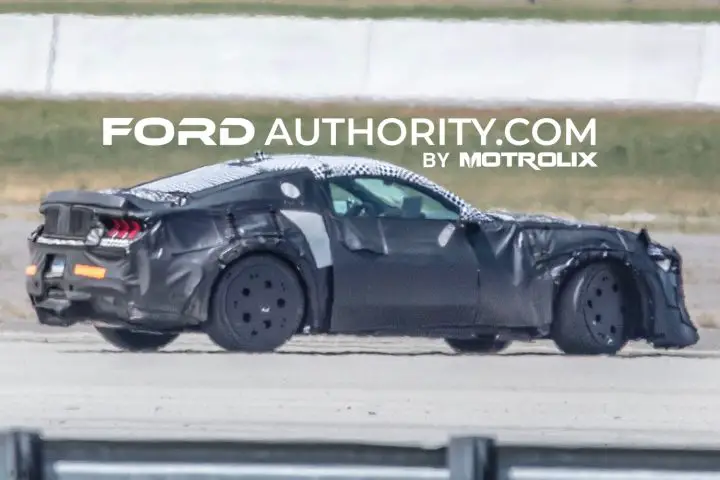 While this apparent Ford Mustang GT3 prototype doesn't feature the aggressive rear wing of the racing variant, it does feature large wheels and wide tires, possibly Michelin Cup 2R rubber, although the wheels themselves are covered up. The biggest mystery here is what's going on out back. Are we seeing a center-mounted exhaust setup here? That would deviate from what is currently featured on the recently revealed GT3, which features side exhausts.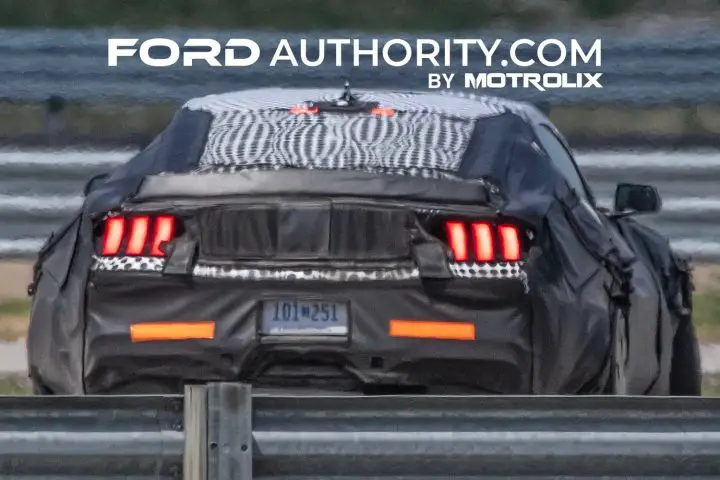 It's also possible that this is not a Ford Mustang GT3, but something else. When it announced the Ford Mustang Dark Horse, the automaker also outlined two track-only variants: the Dark Horse S and Dark Horse R. But those specialty models would probably stick with the Dark Horse exhaust system, and the automaker did not say they would get a new exhaust. Plus, this is clearly a wider vehicle than the standard Dark Horse and is something more in line with a GT3. In any event, Ford is clearly hard at work on new S650 Mustang variants.
We'll be keeping tabs on Ford Mustang prototypes and all that jazz, so subscribe to Ford Authority for the latest Ford Mustang news, and for comprehensive Ford news updates.