YouTube personality Emilia Hartford picked up a Ford-powered Shelby Daytona coupe replica back in mid-May after the vehicle had been parked for five years. With a little elbow grease, she brought the sportscar back to pristine condition, outfitting it with a brand new TKX five-speed manual transmission to pair with its existing 347 cubic-inch powerhouse. However, only about four weeks later, Hartford has decided to part with the Shelby Daytona, but her garage bay won't be empty, as she has now acquired a Ford GT40 replica to take its place.
"I can't believe I'm getting rid of this," Hartford says. "I want to build another Daytona, but I think I want to do it slightly different… maybe a Coyote. I wouldn't mind a six-speed."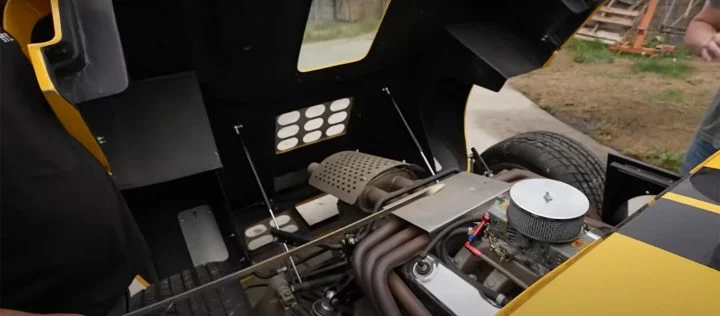 Hartford brings the blue Shelby Daytona back to Dean, the man she purchased it from, commenting that she could see how happy it made him to drive the sportscar once again. During negotiations, she says that she would be happy if she breaks even on it, but then says that after the labor, new tires, new transmission and new alternator, she'd like a bit more out of it. Dean offers her his Ford GT40, which has never been driven on the street, and has clearly been sitting for some time.
"This thing is complete," Dean says. "It just needs to be driven."
Hartford and her companion have their doubts, though. The Ford GT40 replica was assembled in someone's garage, and they are understandably a bit nervous about the quality of the workmanship, commenting that they are likely going to have to rebuild it. They also can't get the 427 cubic-inch engine to turn over, but eventually they settle on a trade for the Shelby Daytona and a bit more cash, as the Ford GT40 is worth more than the Daytona.
Hartford says that between the trade, paying $35,000 in cash, and considering the work and money she put into the Daytona, she bought the Ford GT40 for around $100,000, which is a hell of a deal, and remarks that some models can go for $200,000 to $300,000. Considering that the popularity of GT40 replicas skyrocketed after Ford v Ferrari, she could very well come out ahead on this trade.
Be sure and subscribe to Ford Authority for around-the-clock Ford news coverage.