As Ford Authority reported earlier this month, the privateer team Robert Prilika Motorsports was planning to bring out a stock – save for the addition of necessary safety equipment – Shelby F-150 Super Snake Sport to the 2023 Pikes Peak International Hill Climb with an eye toward proving that pickups can in fact turn corners, not just go fast in a straight line. As promised, when the dust settled, this gussied-up version of the utilitarian Ford F-150 did in fact accomplish its mission with an impressive run at the iconic event, according to the Detroit Free Press.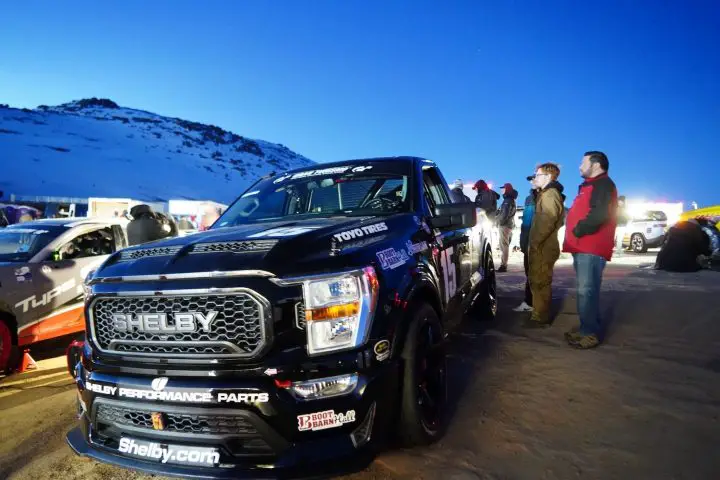 With seasoned racer Prilika behind the wheel, this Shelby F-150 Super Snake managed to make it up the 12.3-mile course in just 13:03 minutes, hitting speeds of 110 miles-per-hour along the way while competing in the Exhibition Division. That figure isn't quite on par with the sub-10 minute times that the more elite racers aim for, but for a big, heavy pickup, it's certainly impressive, though there is some room for improvement.
"The supercharged Shelby truck performed perfectly," Prilika said after the race. "I had a great start and kept driving hard, hitting 110 miles per hour on the straight. That is pretty impressive given the road is rated at 25 miles per hour. And even though I drove too deep into a couple of corners, I achieved a best time for a four-wheel-drive truck with a gasoline engine. I've never driven a truck in any kind of racing. Shelby wants me to drive a truck because that's the main core of their business now. I've driven trucks all my life but never raced one. So it's kind of a new experience for me."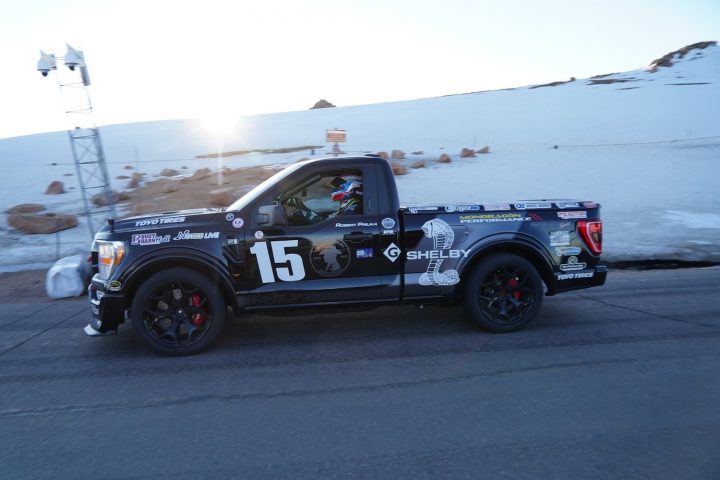 Like every Shelby F-150 Super Snake Sport, this particular pickup features a lowered suspension with unique rear traction bars, upper control arms, adjustable front and rear shocks, and a rear sway bar, along with an optional 775 horsepower upgrade for the Ford 5.0L V8 Coyote engine that includes a Whipple supercharger, a performance air intake with a high-flow filter, a carbon fiber air intake tube, an aluminum heat exchanger, billet throttle body, and high flow fuel injectors. Driving all four wheels, the pickup can accelerate from from 0-60 miles-per-hour in 3.45 seconds.
We'll have more on the Pikes Peak International Hill Climb and the Shelby F-150 Super Snake Sport soon, so subscribe to Ford Authority for more Shelby American news, Ford F-150 news, and non-stop Ford news coverage.