Since its launch in late 2021 for the 2022 model year, the Ford Maverick has remained on the buying public's radar due to its compact car starting price, versatility, and standard fuel sipping hybrid variant. The base XL is a fantastic value play for shoppers interested in a cheap but cheerful commuter pickup, while XLT and Lariat can be configured with a bit more luxury and capability, depending on a buyer's needs. For 2023, the Ford Maverick Tremor Off-Road package became optional for those looking for a bit more off-road capability than what was offered by the FX4 package, and now, sources tell Ford Authority that a street-oriented performance variant is on the way as well.
Unfortunately, our sources did not fully outline what to expect from this particular variant, but they did say it will feature a lowered suspension and big wheels, and that it will "sit low." The big question about any type of street performance-oriented Ford Maverick is whether or not it will boast any type of powertrain upgrade or new engine choice, but no information about that is available at this time. Naturally, the idea of a Ford Maverick ST is one Ford Authority has speculated about in the past, and we are not alone in that regard. After the Ford Focus and Ford Fiesta ST variants ended their respective runs, the Ford Edge ST and Ford Explorer ST essentially took their spots as street-oriented performance utility vehicles, and both represented a pivot of sorts to crossovers after the company decided not to offer redesigned compact and subcompact vehicles in North America. If the company decided to field a Ford Maverick ST, it would be the first pickup to become a member of that specialized club. In any event, the Ford Maverick team previously said it would not rule out a street performance model, so this variant would be in line with those comments.
We can be reasonably confident that this is not any type of Raptor, as those vehicles typically feature off-road capability and performance, and a lowered suspension would go against the former characteristic espoused by those vehicles.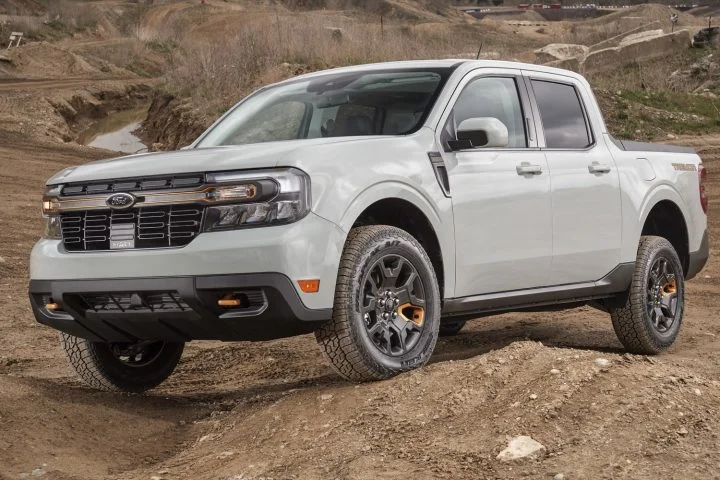 A street performance Ford Maverick, be it an ST or simply option package not unlike the Tremor, would be in line with the company's goal of offering more variants across its vehicle roster, with profitability being a key goal in those specific rollouts. As Ford Authority previously reported, the company is aiming for these variants to share roughly 80 percent parts commonality to the base vehicle while generating over 30 percent higher contribution margins to the overall lineup. Future examples of that mentality are the upcoming Ford Bronco work and premium variants.
We'll have all the latest Maverick news to share as soon as it's available, so subscribe to Ford Authority for the latest Ford Maverick news, and for continuous Ford news updates.