While Chevy has been dominating the Australian Supercars series throughout 2023, Ford has been lagging behind the competition, something that Ford Performance head Mark Rushbrook has raised concerns about. The Blue Oval's luck seemed to take a turn for the better on June 17th, 2023, at Hidden Valley Motor Sport Complex in Darwin, Australia, as the No. 6 Gen3 Ford Mustang of Cam Waters took control of the race. Unfortunately, Waters' No. 6 Mustang was felled by a serious fire under the hood, prompting an investigation by the sanctioning body, per Motorsport.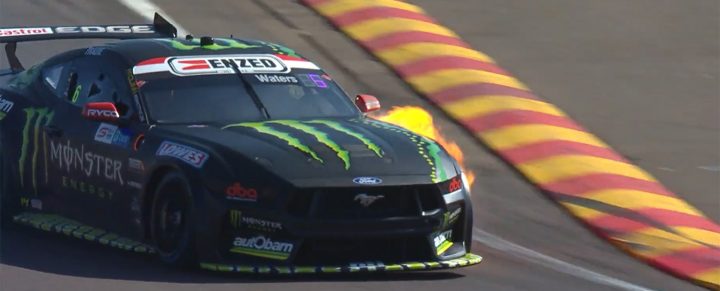 Waters was leading at Darwin when his No. 6 Mustang caught fire. He was able to guide the ailing race car off the racing surface at the exit of Turns 1 and 2, and extracted himself from the burning Mustang under his own power before it was attended to by safety crews.
The incident bore striking resemblance to two other fires that occurred earlier in the season at the Beaurepaires Melbourne SuperSprint, and Supercars launched an investigation, but found that the fires were unrelated to prior dangerous mechanical failures. As a precaution, all other Ford engines were also checked for dangerous failures, though none were found.
"An investigation into the Car 6 fire incident in Darwin is underway," a Supercars spokesperson said in a statement. "Most importantly, Cam Waters safely walked away from the incident unharmed."
The investigation returned that the fire of Waters' No. 6 Ford Mustang was caused by a loose fuel fitting, which allowed fire to break out underneath the hood. While there was damage to the firewall, Waters' team was able to make overnight repairs to the No. 6 Mustang, allowing him to return to competition for the remaining to races of the weekend.
"Following an initial inspection, led by Supercars, Tickford and Herrod Performance Engines, the fire appears to have been caused by a fuel fitting coming loose and is not related to previous fires experienced in the 2023 Championship," the Supercars spokesperson explained.