The Ford Bronco Raptor is designed to provide owners with a seriously capable off-road weapon, an SUV that's equally capable of blasting across the desert, slow-crawling over rocks, and even powering across rally stages with the best of them. However, there are always going to be folks that aren't quite satisfied with any vehicle's performance, no matter how impressive it may be, and for them, outfits like Hennessey Performance already offer more powerful versions of the Ford Bronco Raptor to the masses. Meanwhile, for those looking to merely improve their SUV's acceleration without breaking the bank, Whipple's calibration seems to provide plenty of bang for the buck, as we can see in this video from Lethal Performance.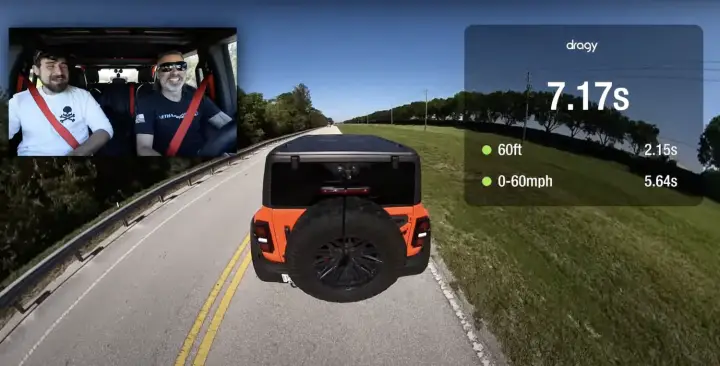 In stock form, the Ford Bronco Raptor offers up 418 horsepower and 440 pound-feet of torque from its twin-turbocharged Ford 3.0L V6 EcoBoost engine, which are solid numbers, indeed. That's good enough to propel the rather heavy SUV from 0-60 miles-per-hour in around 6.3 seconds, but of course, we expect some sort of improvement from this modified example.
Lethal Performance has installed not only the Whipple calibration on its Ford Bronco Raptor, but also the same company's Mega Cooler intercooler, a blow-off valve, and 20-inch Vossen wheels wrapped with 37-inch Nitto Ridge Grappler tires. The team tested out its modified ride in a number of ways in an attempt to figure out which is best in terms of extracting optimum 0-60 acceleration, starting with manual mode and two-wheel drive, which propelled the Bronco Raptor to 60 mph in 5.89 seconds.
With traction control and sport mode engaged, they give it another go and record an even better 5.64-second run, but shifting manually on a subsequent run only slows it down. Engaging four-wheel drive results in a 5.67-second 0-60 time, interestingly enough, even though the Bronco Raptor seemed to launch harder on that particular run. Regardless, an improvement of more than a half second is impressive for a simple upgrade such as this one, even if it doesn't necessarily make the Ford Bronco Raptor a sports car beater in a straight line.
We'll have more on the Bronco Raptor soon, so be sure and subscribe to Ford Authority for more Ford Bronco news and continuous Ford news coverage.