The 2024 Ford F-150 lineup is expected to receive a fairly substantial update that will alter the front and rear of the pickup at minimum, among other changes. As Ford Authority previously detailed, F-150 Raptor and Raptor R pickups have already been photographed highlighting some of the changes that those particular variants. And now, a 2024 Ford F-150 Tremor has been captured without any coverings for the first time, and it looks like major changes are in store for the front end.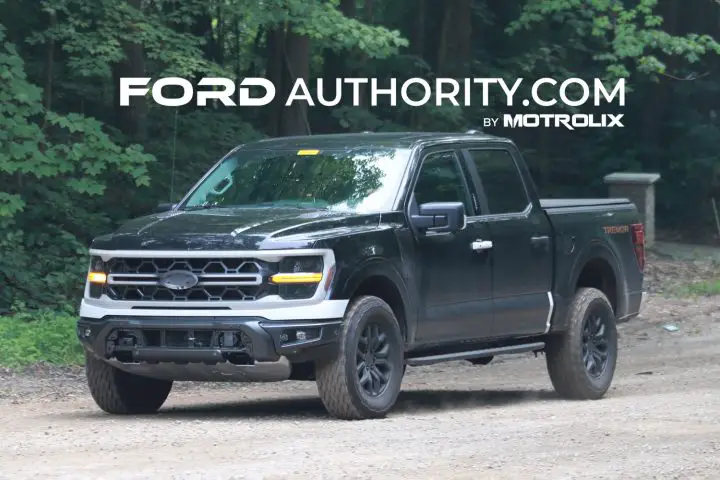 Although this 2024 Ford F-150 Tremor features body components that haven't been painted yet, it's pretty clear that the front end has been changed significantly. For starters, the headlamps are new, with the signature lighting previously featured on each side jettisoned in favored of a black painted piece that surrounds the entirely of the grille. Instead, amber signature lighting has been added between the LED lights on each headlamp. There is also a new cosmetic strip that runs horizontally through the grille, visually connecting the amber LED lights with the Blue Oval emblem straight through to the other side. It is possible that strip will be painted Active Orange, a Tremor-specific color, but that isn't clear just yet.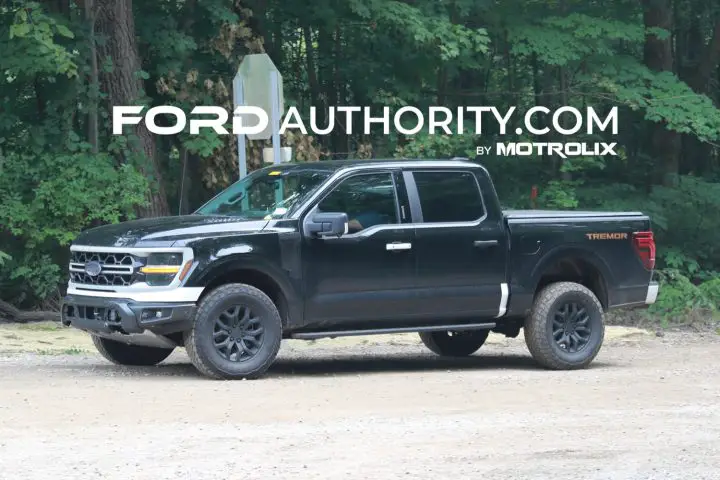 Additionally, the 2024 Ford F-150 Tremor features an entirely new front bumper, nearly identical to the revised bumper seen on the Raptor and Raptor R. This bumper seems designed to improve the approach angle for the off-road focused variants, as it appears to be designed with less coverage over the front tires. That said, unlike the Raptor models we've already seen, this Tremor has additional wind deflectors attached to the pieces directly ahead of the tires. Otherwise, it appears the standard matte black 18-inch wheels will carry over from the current model.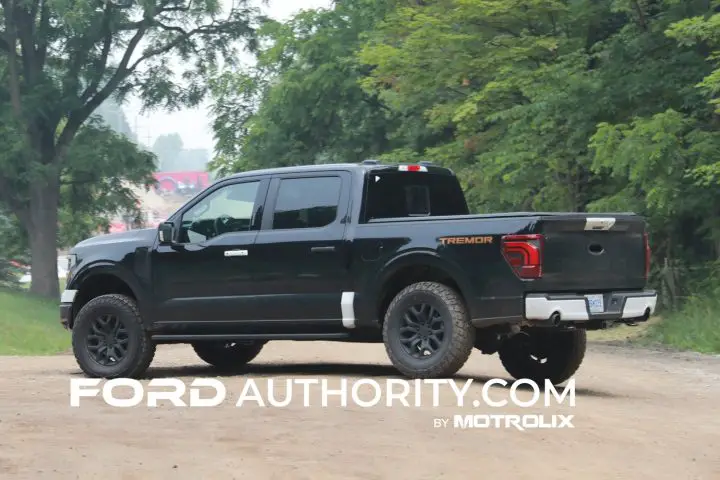 This angle allows us to see the changes to the 2024 Ford F-150 Tremor rear, which are less drastic than what's in store up front. The rear bumper appears unchanged, as does the side graphic, but we do see the new taillights that at this point seem destined to be equipped on all 2024 F-150 models. The new lights ditch the "C-clamp" design for something aesthetically similar to the F-150 Lightning. As for other changes that could be coming, those include new landscape-oriented and portrait-oriented center touchscreens, and the possibility of a multi-function tailgate. Otherwise, the Tremor will likely retain its standard Ford 5.0L V8 and the plethora of standard suspension upgrades that distinguish it from the rest of the lineup.
We'll have more on the 2024 Ford F-150 soon, so subscribe to Ford Authority for the latest Ford F-150 news, and for continuous Ford news updates.