Since its debut months ago, we've seen a number of YouTubers get their hands on the V8-powered 2023 Ford F-150 Raptor R, including the Hoonigans – who raced it against a Toyota GR Supra and a heavily-modified C6 Corvette – as well as a TRX and Escalade-V off-road race, another example getting straight-piped, and one that was driven and reviewed by Jay Leno himself. Now, mega-popular YouTuber Cleetus McFarland has turned his 2023 Ford F-150 Raptor R into something of a drift machine in this new video, too.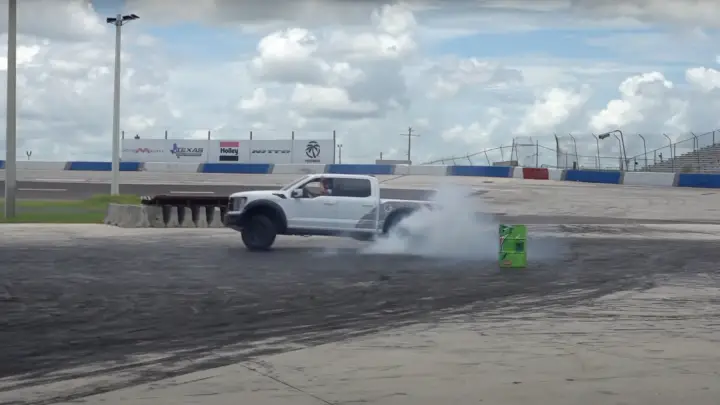 McFarland has garnered a reputation – and a large audience – for his many automotive-related antics, which include lots of drag racing action, demolition derby carnage, and even buying his own race track to host events at. Thus, it's really no surprise that he would buy a brand new, $100k truck and proceed to beat on it, all in the name of entertainment – and views.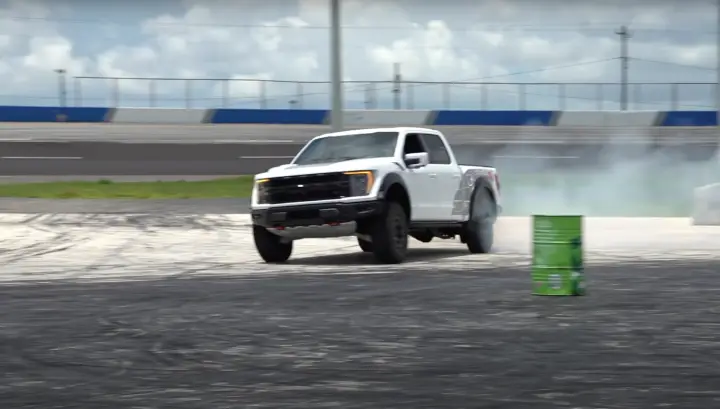 The tires on McFarland's Raptor R are already in need of replacement following plenty of smokey antics, so before replacing them with a fresh set of rubber, he decides to slap a set of Nitto tires from his Crown Victoria on the muscular pickup and take it out for some sideways action.
Turns out, even with its hefty curb weight, the 2023 Ford F-150 Raptor R makes a pretty decent drift machine, as it slides around with ease. In fact, it's a bit too good at lighting up the smaller tires, as one of them is eventually toast as well. The truck does throw up some warning messages at one point, but that isn't really a surprise given the extremely staggered – and somewhat comical – tire setup.
We'll have more on the Raptor R soon, so be sure and subscribe to Ford Authority for the latest Ford F-150 news, Ford F-150 Raptor news, and ongoing Ford news coverage.