As Ford Authority reported earlier this week, the latest version of the automaker's hands-free highway driving assist feature – BlueCruise 1.3 – is set to roll out in the Ford Mustang Mach-E starting this summer. However, The Blue Oval didn't provide any details regarding what enhancements, features, or bug fixes we can expect to see in this update, at least not at that time. Now, the automaker has shed some light on what users will be getting when BlueCruise 1.3 starts to roll out in the coming weeks.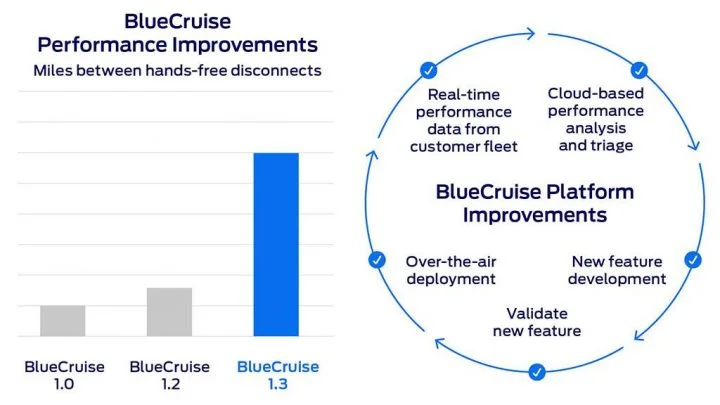 Building upon BlueCruise 1.2 – which added features including Lane Change Assist, Predictive Speed Assist, and In-Lane Repositioning, Version 1.3 helps drivers stay engaged in hands-free mode longer – including around curves and narrow lanes – up to three times longer, in fact, versus version 1.2, and five times longer than version 1.0.
Ford credits this rapid improvement to its Continuous Learning Loop, which constantly collecting data from customers using BlueCruise that consent to share this information. To date, 225,000 users have racked up 95 million miles with the feature engaged, which has helped ramp up improvements at a rapid rate. This data includes things like the type of vehicle they're driving, their geographic location, and the specific use case, such as stop-and-go traffic or those that engage in long road trips.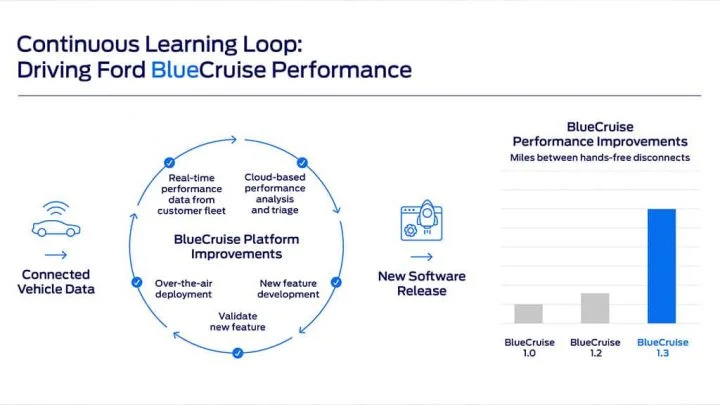 Using this data, Ford noticed that drivers tend to stay in one side of a lane versus another when they're being passed by semi trucks, which is where the idea for Lane Repositioning came from. However, this is just one example of how the automaker is using data to constantly refine BlueCruise as the months go by. "The hardware and Ford-developed software stack is laying the foundation for how we will be able to seamlessly deliver hands-free driving excellence quickly to the customer in the future," said Sammy Omari, Executive Director, ADAS Technologies, and CEO of Latitude AI. "This is only the beginning."
We'll have more on BlueCruise soon, so be sure and subscribe to Ford Authority for ongoing Ford news coverage.