While a common sight in other parts of the world, models like the Ford Capri are rarely seen on U.S. soil, though some have gone through the process of importing these types of vehicles in recent years – including the more modern Ford Falcon, which we just saw race a heavily modified Ford Mustang last week as part of Hoonigan's ongoing This vs That series. Now, that same YouTube channel is back with yet another interesting matchup between a pair of heavily-modified rides from international markets – a Ford Capri and Holden Commodore.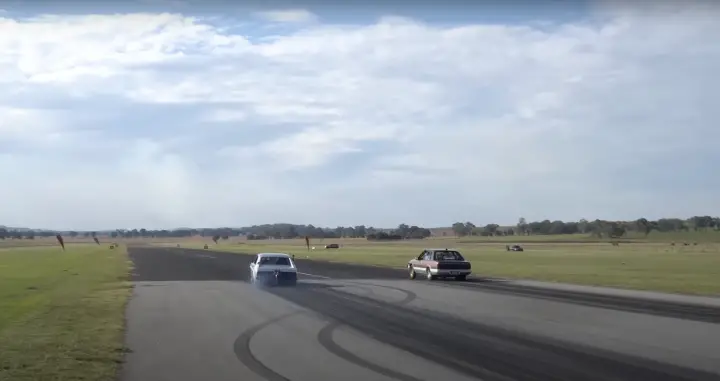 On one side of this particular matchup, we have a 1974 Ford Capri, which is packing a supercharged 6.0L V8 churning out a cool 900 horsepower at the crank, flowing to the rear wheels via a three-speed automatic transmission. With just 2,645 pounds to move, the Blue Oval sedan certainly seems like the favorite in this showdown, when we consider the same stats from its foe.
The 1985 Holden Commodore seen here is no slouch either, as it's packing a naturally-aspirated 6.9L V8 that makes 850 horsepower at the crank with a shot of nitrous, which also flows to the rear wheels via a three-speed automatic gearbox. However, it weighs quite a bit more at 3,150 pounds, putting it at a disadvantage, though as we've seen in the past, paper numbers don't always translate to superior performance on the track.
That certainly seems to be the case at the start of the first race, as the Ford Capri struggles to find traction and loses a bit of ground to the Commodore, though the Blue Oval coupe manages to reel it in and win by a nose. The driver of the Capri jumps on round two, setting up the two for a very interesting third and final race. Unfortunately for the Capri, it wound up struggling to hook again and completed essentially its entire run sideways, which is entertaining to watch, but not terribly effective for winning races.
We'll have more interesting videos like this to share soon, so be sure and subscribe to Ford Authority for more Ford Capri news and ongoing Ford news coverage.