Many Ford plants have undergone major changes in recent years as the automaker works to ramp up production of all-electric vehicles, batteries, and motors. Aside from simply closing certain plants, FoMoCo is also in the process of retooling many of them for the production of those aforementioned products, some of which are ditching ICE altogether. The UK-based Ford Dagenham Engine plant – which builds the Ford EcoBlue family of engines and select other products – is still humming along after more than a century in operation, however, and it just celebrated a rather large milestone as well.
That milestone is building the two-millionth Ford 2.0L EcoBlue diesel engine, which just rolled off the plant's Panther assembly line. This particular powerplant originally launched back in 2015, and has been used in a wide variety of vehicles including the Ford Transit, Ford Ranger, Ford Focus, Ford Mondeo, Ford Galaxy, and Ford S-MAX, in both single- and twin-turbo derivatives with outputs ranging from 100 to around 220 horsepower.
The Panther assembly line at the Ford Dagenham Engine plant is capable of churning out up to 60 engines per shift, which are then shipped to facilities in Germany, Spain, Turkey, the UK, and Uruguay, where they're installed in a variety of vehicles.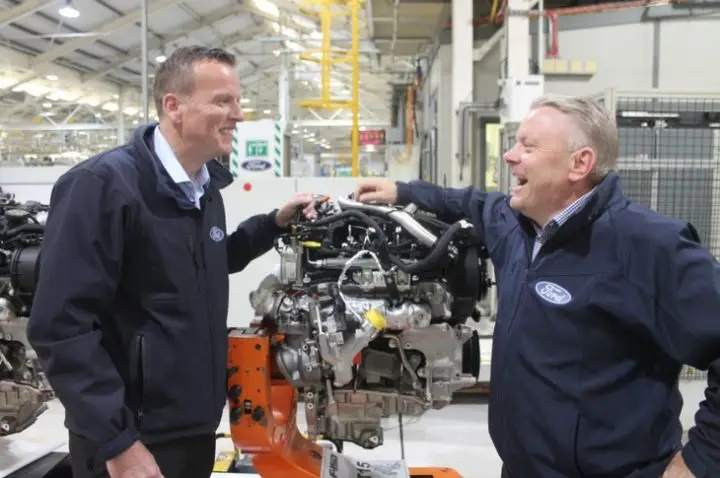 "It's fantastic to reach this milestone," said Paul Walker, Panther Area Manager. "We've not long celebrated a record score in one shift, so it is a testament to the entire Panther team for their hard work and dedication in building quality engines. We continue to develop our technology and push innovation so I'm looking forward to what we can achieve in the coming years.  Thank you to everyone involved in Panther, past and present, for us to be able to pass this excellent landmark number."
We'll have more on Ford's plants from around the world soon, so be sure and subscribe to Ford Authority for continuous Ford news coverage.