Ford Motor Company has filed a patent for a system that could help provide more power for outlets installed in Ford hybrid vehicles, Ford Authority has learned.
The patent was filed on January 11th, 2022, published on July 13th, 2023, and assigned serial number 0219554.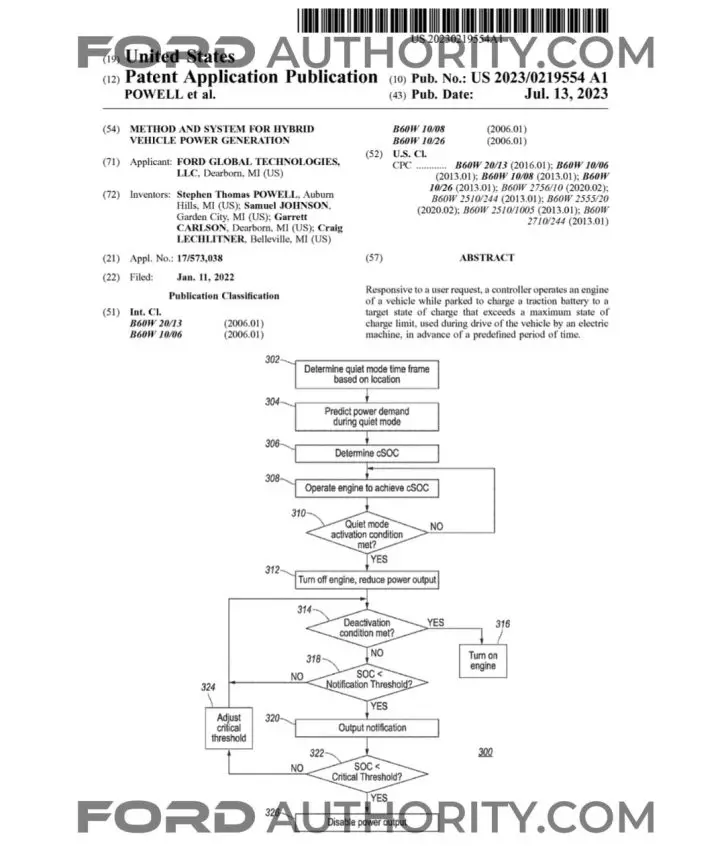 The Ford Authority Take
Following the tremendous success and critical acclaim centered around Pro Power Onboard – Ford's portable generator feature – The Blue Oval has filed a number of related patents, including one for an integrated truck bed for power outlets, a vehicle based microgrid system, and portable battery packs for EVs and other electronic devices. Now, as Pro Power Onboard looks likely to be available in many other future models in an evolved form, a new patent has been filed that could help it provide more power to Ford hybrid vehicles as well.
This particular idea is quite complex, but applies specifically to hybrid vehicles equipped with a traction battery and a controller, which would be used to ensure that the battery retains enough power for normal operation. However, the system could also determine not only a time frame when it might want to operate in "quiet mode" so as not to disturb the neighbors, but also how much power an attached accessory might need to function.
From there, the system could use the vehicle's engine to achieve the desired state of charge if required, or reduce power output if it determines that a quieter operation is called for. Once the desired state of charge is reached, the system could turn off the engine and stop charging the device, too.
It seems as if Ford is working on figuring out ways to improve the efficiency of its Pro Power Onboard feature in hybrid vehicles, which makes plenty of sense. After all, many customers have found this feature to be rather useful – and in some cases, indispensable – since its launch a couple of years ago.
We'll have more on this and all Ford patents soon, so be sure and subscribe to Ford Authority for the latest Ford patent news, Ford business news, and comprehensive Ford news coverage.