Customer satisfaction over Ford infotainment systems has historically fared quite well in numerous studies, and has also remained a driving force behind the automaker's overall owner satisfaction scores as well. This is notable because many manufacturers struggle to get this important piece of the car-making puzzle right, which can have a massive impact on the ownership experience in general. Now, Consumer Reports is also shedding a bit more light on this particular topic after leaning on data collected from its own members.

This data reveals that Ford infotainment system satisfaction ranked a little above the industry average, as The Blue Oval finished in 14th place among 33 brands when it comes to built-in infotainment systems. A total of 55 percent of those polled said they were satisfied with Ford's own infotainment systems, which is a bit better than the industry average of 50 percent.
This ranked Ford behind Genesis (74 percent), Tesla (68 percent), Hyundai (64 percent), BMW (64 percent), Rivian (63 percent), Buick (62 percent), Cadillac (61 percent), Lincoln (60 percent), Jeep (59 percent), GMC (59 percent), Ram (56 percent), Alfa Romeo (56 percent), and Chevrolet (56 percent), but ahead of many others including Dodge (54 percent), Mitsubishi (53 percent), Mercedes-Benz (53 percent), Porsche (52 percent), Volvo (52 percent), Land Rover (51 percent), Chrysler (50 percent), Kia (49 percent), Honda (49 percent), Mini (46 percent), Audi (46 percent), Nissan (45 percent), Infiniti (44 percent), Volkswagen (41 percent), Toyota (41 percent), Lexus (41 percent), Mazda (38 percent), Subaru (39 percent), and Acura (29 percent).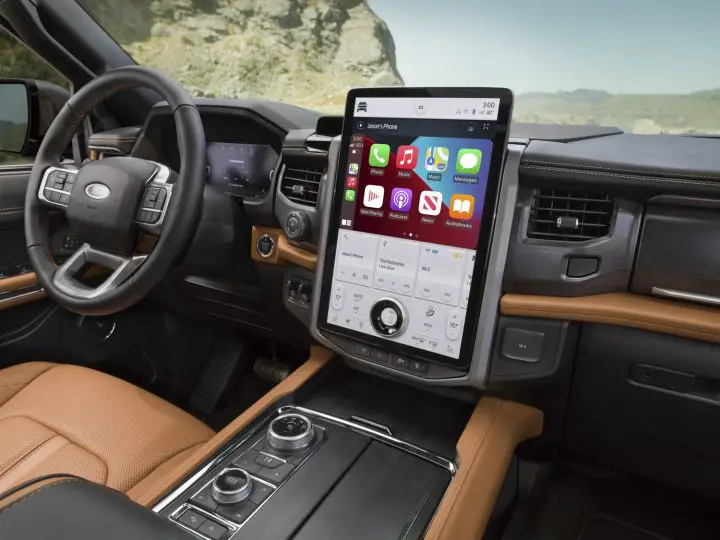 These ratings are particularly important as infotainment systems become more of a part of the overall user experience in new vehicles, with many incorporating controls for things like HVAC systems and volume control, which were previously controlled using physical buttons, switches, or dials, particularly given the fact that at least one automaker – General Motors – plans to ditch Apple CarPlay and Android Auto connectivity in the future.
We'll have more insights like this to share soon, so be sure and subscribe to Ford Authority for non-stop Ford news coverage.