Ford Motor Company sales increased 16 percent to 169,789 units during June 2023 in the United States. Sales increased at Ford and decreased at Lincoln.
"Ford achieved both best-selling brand and truck for six consecutive months this year on the strength of Ford -Series, vans, our new Escape and F-150 Lightning," said Vice President, Sales distribution, and Trucks, Andrew Frick. "Our EV sales continue to grow. Improved Mustang Mach-E inventory flow began to hit at the end of Q2 following the retooling of our plant earlier this year, which helped Mustang Mach-E sales climb 110 percent in June," he added.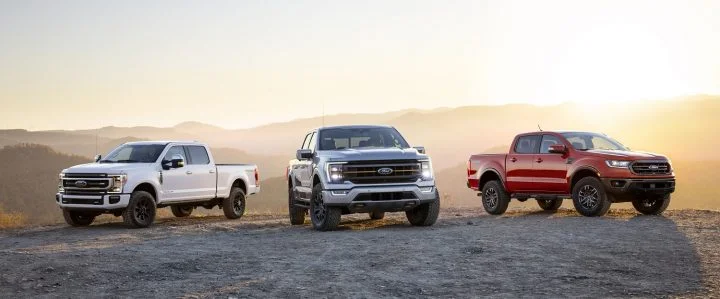 FoMoCo Sales Notes – U.S. June 2023
Brand & Model Sales
Ford sales increased 16.80 percent to 169,789 units:
Lincoln sales increased 0.64 percent to 6,938 units:
During the first six months of the 2023 calendar year, Ford Motor Company sales increased 10 percent to 1,007,568 units.
Sales Results - June 2023 - USA - Ford
| MODEL | JUN 2023 / JUN 2022 | JUNE 2023 | JUNE 2022 | YTD 2023 / YTD 2022 | YTD 2023 | YTD 2022 |
| --- | --- | --- | --- | --- | --- | --- |
| BRONCO | -2.59% | 8,456 | 8,681 | +6.82% | 58,580 | 54,842 |
| BRONCO SPORT | +58.82% | 11,152 | 7,022 | +7.85% | 63,143 | 58,549 |
| E-SERIES | +18.94% | 2,820 | 2,371 | +55.70% | 19,520 | 12,537 |
| ECOSPORT | -89.12% | 289 | 2,657 | -86.01% | 2,508 | 17,924 |
| EDGE | +64.79% | 7,483 | 4,541 | -9.66% | 46,484 | 51,453 |
| ESCAPE | +55.11% | 14,824 | 9,557 | -12.28% | 64,839 | 73,920 |
| EXPEDITION | +4.14% | 6,970 | 6,693 | +72.30% | 39,366 | 22,847 |
| EXPLORER | -31.75% | 13,504 | 19,786 | +1.46% | 104,423 | 102,917 |
| F-SERIES | +25.46% | 72,355 | 57,673 | +27.91% | 382,893 | 299,345 |
| GT | -100.00% | 0 | 4 | -46.55% | 31 | 58 |
| HEAVY TRUCKS | -4.91% | 1,027 | 1,080 | +28.15% | 7,802 | 6,088 |
| MAVERICK | +92.50% | 7,473 | 3,882 | +9.67% | 42,499 | 38,753 |
| MUSTANG | -55.67% | 2,060 | 4,647 | -2.95% | 25,471 | 26,244 |
| MUSTANG MACH-E | +110.02% | 4,110 | 1,957 | -20.57% | 14,040 | 17,675 |
| RANGER | -13.57% | 4,415 | 5,108 | -28.73% | 24,118 | 33,840 |
| TRANSIT | +47.31% | 11,343 | 7,700 | +53.12% | 64,046 | 41,828 |
| TRANSIT CONNECT | -24.94% | 1,508 | 2,009 | -38.00% | 8,747 | 14,107 |
| FORD TOTAL | +16.80% | 169,789 | 145,368 | +10.95% | 968,510 | 872,927 |
Sales Results - June 2023 - USA - Lincoln
| MODEL | JUN 2023 / JUN 2022 | JUNE 2023 | JUNE 2022 | YTD 2023 / YTD 2022 | YTD 2023 | YTD 2022 |
| --- | --- | --- | --- | --- | --- | --- |
| AVIATOR | -83.91% | 241 | 1,498 | -25.00% | 8,213 | 10,950 |
| CORSAIR | +27.01% | 2,737 | 2,155 | -31.39% | 9,631 | 14,038 |
| NAUTILUS | +58.53% | 2,286 | 1,442 | +4.23% | 12,356 | 11,855 |
| NAVIGATOR | -6.95% | 1,674 | 1,799 | +46.41% | 8,858 | 6,050 |
| LINCOLN TOTAL | +0.64% | 6,938 | 6,894 | -8.94% | 39,058 | 42,893 |
Sales Results - June 2023 - USA - FMC Totals
| BRAND | JUN 2023 / JUN 2022 | JUNE 2023 | JUNE 2022 | YTD 2023 / YTD 2022 | YTD 2023 | YTD 2022 |
| --- | --- | --- | --- | --- | --- | --- |
| FORD TOTAL | +16.80% | 169,789 | 145,368 | +10.95% | 968,510 | 872,927 |
| LINCOLN TOTAL | +0.64% | 6,938 | 6,894 | -8.94% | 39,058 | 42,893 |
| FMC USA TOTAL | +16.07% | 176,727 | 152,262 | +10.02% | 1,007,568 | 915,820 |
About The Numbers
Further Reading & Sales Reporting