Over the years, the Ford Mustang has garnered plenty of attention, but sadly, not all of it is positive. Aside from being one of the most popular and successful models in the history of the automobile, the original pony car is also a frequent victim of inexperienced drivers, who simply love to overpower the car's rear tires and smash into things – seemingly on a daily basis. We've seen this time and time again, in the form of stolen cars, cars crashing into crowds, and even Mustangs smashing into buildings and other inanimate objects. Now, we have even more video evidence that this phenomenon isn't close to being over, thanks to Reddit.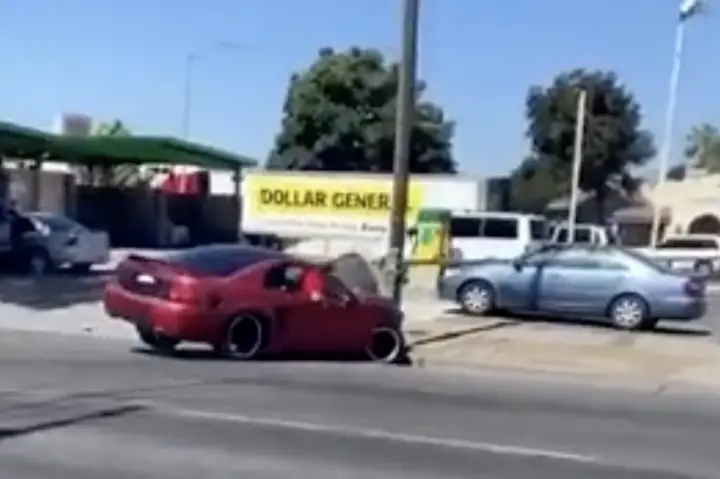 As is the case with most similar crashes involving a Ford Mustang, this one can be directly attributed to the driver, not the car itself. Here, we get to see them attempt to drift down some sort of road, sliding to one side before overcorrecting and quickly losing control. Instead of living in infamy for his skillful driving, the driver instead smashes directly into a pole, which means that he will in fact live in infamy – but not the kind he was probably seeking.
On the bright side, at least this particular Mustang was already in pretty sad shape to begin with, and not some pricey GT500 Heritage Edition, which we saw crash into another vehicle not terribly long ago. The car is already missing its front bumper, and isn't in the best of shape by any means.
The telephone pole put it out of its misery
by u/dericn in MustangsCrashing
Though we can't say we necessarily feel bad for the driver – they're the one who attempted to surpass their limits on a public road, after all – but the passenger, well, that's a different story. In the video, we can clearly see them slam into the car's A-pillar when it hits the pole, which had to have left a mark. Regardless, this is one incident that neither is likely to forget anytime soon.
We'll have more wild videos like this to share soon, so be sure to subscribe to Ford Authority for more Ford Mustang news, and ongoing Ford news coverage.