The 2023 Ford Mustang Mach-E lineup has already been significantly updated, with a new lithium iron phosphate battery becoming standard and some pricing changes that lowered prices across the board. Additionally, the automaker has started to ramp up production, with May being a particularly good month for output. There may be more good news for EV shoppers in the future too, as photographers spotted a Mach-E GT with covered headlights, and chances are good that it could be testing a piece of tech that has yet to be introduced on any Ford product in the United States.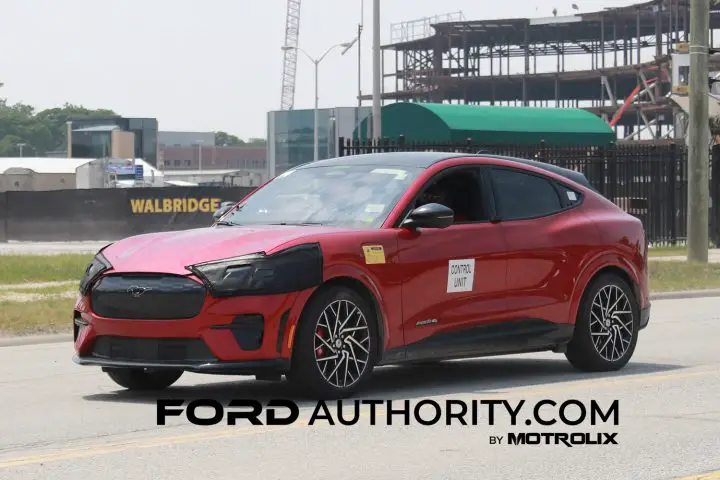 Unlike other vehicles that are usually seen testing, this particular Ford Mustang Mach-E has most of its headlight assemblies covered up, save for two strategic openings. Considering the lack of covering on any other area of this GT Performance Edition Edition, it's safe to say that something is going on. Whatever it is, it won't likely be immediately apparent on first glance, but if we're right, it would represent the implementation of lighting technology that has yet to be introduced on any Ford model in the United States.
As Ford Authority previously reported, The Blue Oval recently filed a patent for glare-free lighting technology, complete with individual lighting elements could be controlled. This type of lighting technology wasn't allowed in the United States until 2021, as previous regulations mandated separate settings for high beam and low beam lighting. Ford's glare-free lighting can turn off sections of each lighting element to prevent oncoming drivers from receiving glare, in addition to increasing lighting on areas of the road that need it. Currently the Ford Mustang Mach-E GT and GT Performance come standard with LED projector lighting with signature lights. In terms of other vehicles in FoMoCo's lineup, vehicles like the 2023 Lincoln Aviator feature adaptive pixel LED headlamps, which are able to project more lighting ahead when needed, but cannot turn off individual sections like a vehicle with glare-free lighting can. The feature is available throughout Ford's Europe offerings.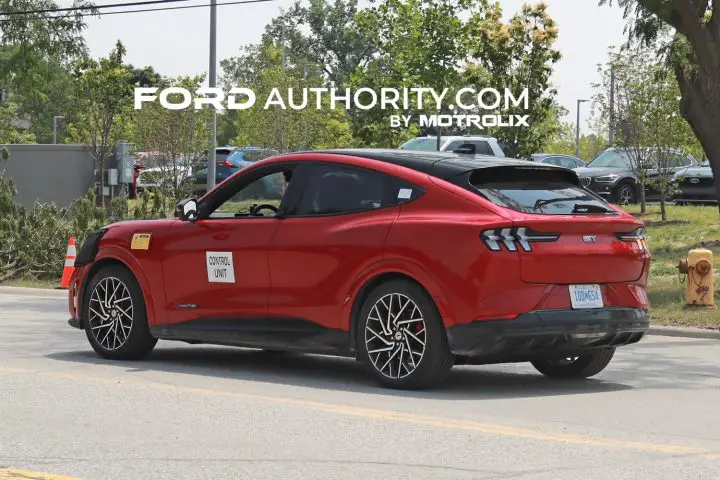 At the moment, it is unclear if this Ford Mustang Mach-E GT is simply a testbed for lighting on other vehicles, or if it properly represents an upcoming change to the Mach-E lineup. If the tech is coming to the Mach-E, it would make sense on the upper range of the lineup, as the Lincoln Aviator currently makes its adaptive lighting optional on Reserve. This is also a technology that could make its way to the lineup prior to a model year changeover, and given the company's willingness to continually update the Mach-E regardless of year, a lighting change could very well be in the cards.
We'll have more on the Mustang Mach-E soon, so subscribe to Ford Authority for the latest Ford Mustang Mach-E news, and for continuous Ford news updates.