Ford has filed its fair share of both mobility and pet-related patents in recent months, presenting us with ideas for things such as a Tesla-like "pet mode," an integrated pet bowl with water level sensing technology, a pet monitoring and control system, a pet detection system, and an accessible scooter, to name just a few. Now, after using 3D printing to develop the FITS system present in the Ford Maverick, the automaker's Mexican arm has come up with something else that's pretty cool – the new Ford P-Raptor, which is designed to help pets with limited mobility get around more easily.
Sadly, just like people, many pets suffer from limited mobility due to birth defects, age, diseases, or accidents, making it quite difficult for them to get around. That's precisely where The Blue Oval got the idea for the Ford P-Raptor – engineers wanted to come up with a way to make it easier for pets with mobility issues to move around, and thus, a team of engineers set out to make that happen – albeit, with a little bit of Raptor family influence for added fun.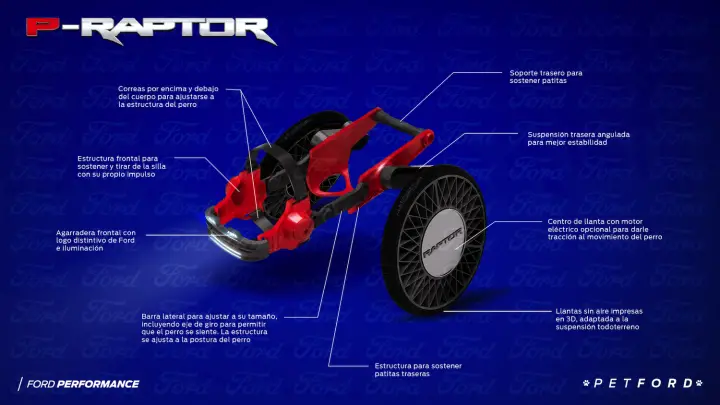 The P-Raptor is designed specifically for dogs, and features a modular design to make it suitable for different sizes and breeds. Along with a front grille, the P-Raptor also features lighting and a Blue Oval badge, along with an electric motor that sends power to the beefy tires. It utilizes adaptable modular traction and a special support that allows the use of the front or rear axles, and incorporates a space dedicated to a dog's legs that's designed to not only go over any type of terrain, but also prevent it from rolling or flipping over.
One of the coolest things about the Ford P-Raptor, however, is that it will be available for anyone to build themselves, thanks to 3D modeling. Ford plans to release the plans to 3D print the mobile chair for free, which anyone can download, enter the measurements of their dog, then create and assembly the pieces themselves.
We'll have more on the P-Raptor soon, so be sure and subscribe to Ford Authority for 24/7 Ford news coverage.