Following a frustrating financial performance in 2022 as a whole, Ford posted more encouraging results in Q1 of 2023 with $41.5 billion in revenue that represented a 20 percent year-over-year gain, along with $3.4 billion in adjusted earnings before interest and taxes (EBIT) that was an increase of 45 percent. This growth was driven by the Ford Blue and Ford Pro divisions – which posted EBIT results of $2.6 billion and $1.4 billion, respectively, while Model e lost $722 million. That trend continued in the second quarter of the year, albeit with larger gaps between these three parts of the business, however.
In Q2, Ford Blue posted a slightly worse EBIT performance of $2.3 billion, and was surpassed by a surging Ford Pro commercial business, which raked in just under $2.4 billion in pre-tax profit. However, these gains were offset somewhat by a $1.08 billion loss from the all-electric Model e side of the equation, prompting at least one financial firm to downgrade the automaker's stock. As Ford Authority reported last week, FoMoCo lost a whopping $32k on every EV it sold in Q2, though the automaker has been quite clear regarding the fact that it doesn't expect the division to turn a profit until 2026, shortly after its first second-generation EVs enter production riding on dedicated platforms and sporting lower costs.
However, this change did warrant a little more caution on Ford's part, as CEO Jim Farley revealed that the company is now pushing back its goal of producing 600k EVs globally by the end of 2023. The automaker now expects to reach that mark at some point next year, all while continuing to work toward its goal of building two million units annually by 2026.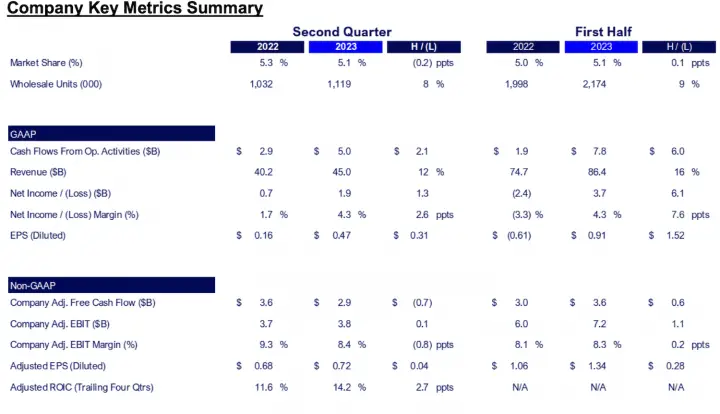 In total, Ford's revenue increased by 12 percent year-over-year in Q2 to $45 billion, while the automaker's net income finished at $1.9 billion and its adjusted EBIT came in at a strong $3.8 billion. These results also prompted FoMoCo to raise its full-year 2023 guidance for adjusted EBIT to between $11-$12 billion, and for adjusted free cash flow to between $6.5-$7 billion.
We'll have more on Ford's financial performance soon, so be sure and subscribe to Ford Authority for 24/7 Ford news coverage.