The Ford Bronco arrived at U.S. dealers about two years ago, and demand continues to be robust. As Ford Authority previously reported, 2023 Ford Bronco production is getting to levels where supply might soon meet demand, although it is currently unclear if every Ford Bronco option or variant is able to be ordered. That said, there are always changes being planned for future models, and our photographers recently spotted a Ford Bronco Badlands that may introduce a very vivid and unique paint option, should it ever be added to the lineup.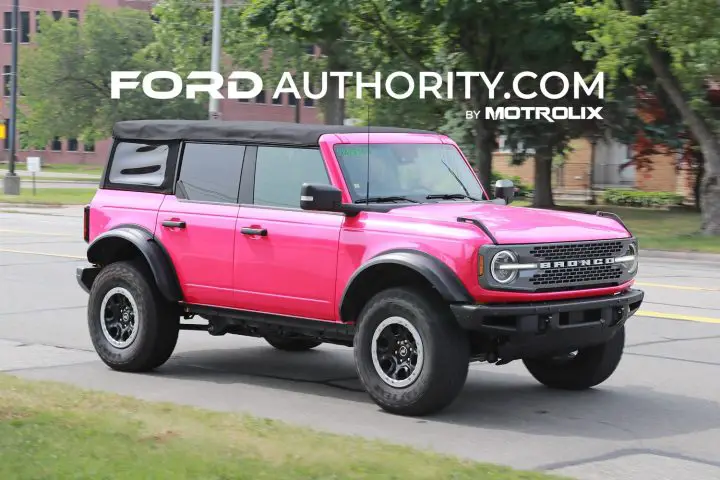 Aside from color, this particular SUV appears to be a Ford Bronco Badlands equipped with the Sasquatch Package and the heavy-duty modular front bumper, although there is no Badlands emblem on the either side of this particular Bronco. This also doesn't appear to be a wrap of any sort – it may be the real deal. The obvious question is…why? And the answer may come from the Jeep Wrangler lineup. Although it is no longer available, the 2021 and 2022 Jeep Wrangler lineup offered the Tuscadero exterior paint option, and it proved to be quite popular. Described as a "deep and intense chromatic magenta" by Jeep, demand for the color was quite strong, to the tune of 30,000 orders, which prompted Stellantis to extend offering it on 2022 models. The $395 paint was always intended to be a limited run offering, and Jeep doesn't seem to be indicating that it will offer it again, as the 2024 Wrangler reveal did not include the atypical color.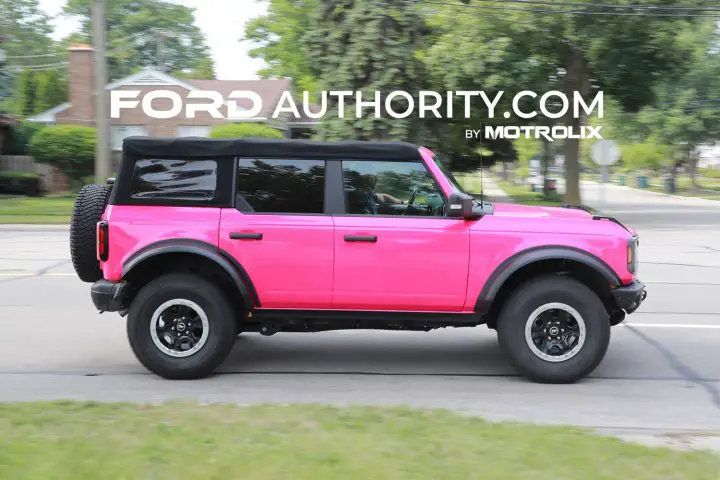 It isn't an absurd notion to speculate that this hot pink Ford Bronco Badlands may preview a limited run paint option. As Ford Authority previously reported, The Blue Oval intends to expand its specialty models over the years, as they don't require substantial investment and are generally more profitable than standard variants. This pink Bronco probably isn't the work or premium variants that the company revealed are coming in the near future, but there's always the possibility that it could be the Heritage+ model that the automaker revealed is also in the works. That said, this doesn't feature the white painted components that are featured on Heritage models, so there's always the possibility that this could be a standard option in the preexisting lineup.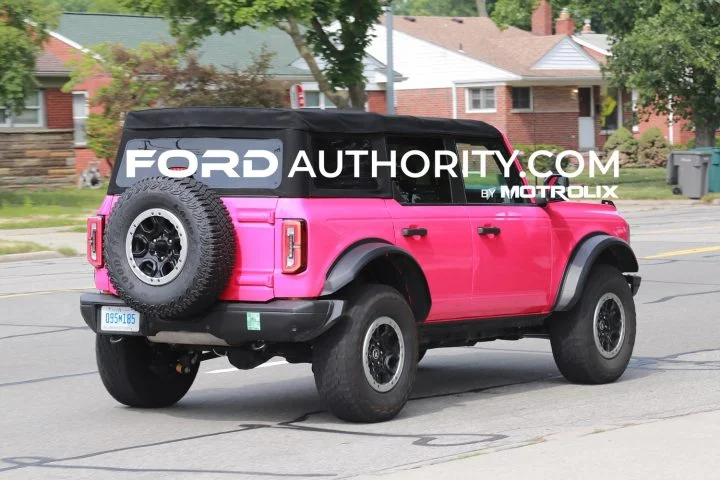 There is a possibility that this is simply a one-off Ford Bronco Badlands destined for charity or some special event, but aside from the color, nothing about this particular SUV is abnormal or modified in any way. In any event, this would be a pretty wild addition to the lineup if it gets added into the production mix, and it doesn't look half bad either. Pink Bronco aside, it also seems that the Ford Bronco Raptor will get a new paint option as well, as photographers have spotted an example painted in Shelter Green Metallic.
We'll have more on the Ford Bronco soon, so subscribe to Ford Authority for more Ford Bronco news, and for continuous Ford news updates.