In recent installments of "This or That," Hoonigan has taken vehicles wearing The Blue Oval and pitted them against other automobiles in a test of speed and agility. They seem to particularly like the Ford F-150 Raptor R as of late, putting the muscular truck up against a Chevrolet Corvette C6, and again testing its get-up-and-go against that of a Toyota GR Supra. Hoonigan has now decided to race another of FoMoCo's vehicles – a pair of them, actually – pitting a heavily modified Ford Mustang head-to-head with a Ford Falcon.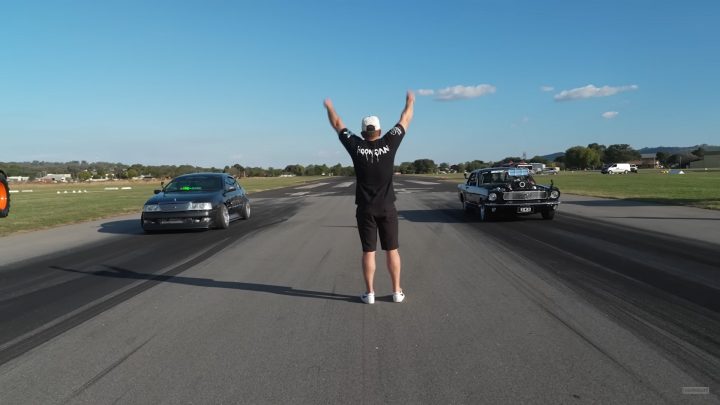 The first competitor, Jesse, is the proud owner of a 2000 Ford Falcon AU. It's outfitted with an aftermarket six-speed manual and the 4.0L I6 engine. Jesse mounted a massive turbocharger to his, capable of 15 psi. He kept the stock ECU but modified it with a $200 chip, and it makes around 350 horsepower, although, in Jesse's words, "feels more like 650." He also added fender flares, a drag wing and unique taillights.
On the other side of the ring, a 1966 Ford Mustang owned by a man named Jake bears the moniker "Sicko." It's obviously not stock, and has been iconic in the burnout world. It harnesses a 302 ci Windsor engine with a cast iron block and iron heads, with mechanical injection. Thanks to its supercharger, it is capable of around 1,000 horsepower, which is "a lot for a little 302," as noted by the host.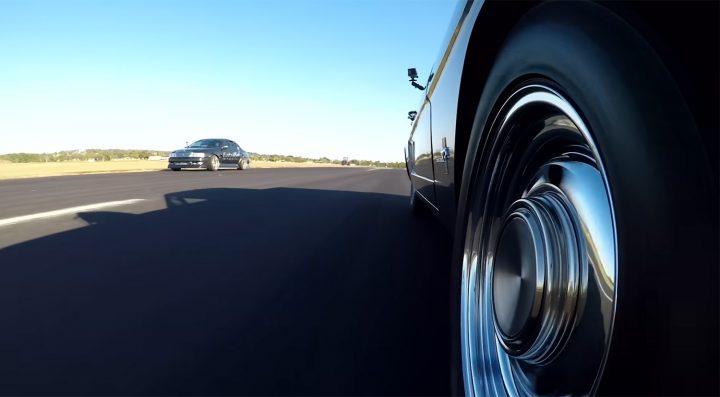 When it's time to run, they first take on a 1,000-foot straight line drag race. At first, the two Fords seem fairly evenly matched, but the Ford Falcon pulls ahead of the Ford Mustang at the line, beating him by nearly one car length. Another race ensues, this time another 1,000-foot run while power skidding – that is, with tires smoking the whole way. Unsurprisingly, the "Sicko" does better when it comes to plumage, but again, the Falcon beats it to the line.
Round 3 pits the two Blue Oval vehicles against each other in a roll race. This time, the Mustang gains the upper hand, winning the 1,500-feet dash.
In a final showoff, they do burnouts for the camera. Unfortunately, the driveshaft on the Ford Falcon lets go, necessitating a tow. Mishap also strikes the "Sicko," as it suffers a blown tire and takes a chunk out of the runway.
Subscribe to Ford Authority for the latest Ford Falcon news, Ford Mustang news and 24/7 Ford news coverage.