Several NASCAR Ford teams looked strong at Pocono Raceway on Sunday, July 23rd, 2023, but circumstance eliminated The Blue Oval's shot at claiming victory in the Cup Series race.
Joey Logano, driver of the No. 22 Ford Mustang, led 21 laps on his way to the Stage 1 win. However, the restart following the stage break proved disastrous for him, as he got spun mid-pack, triggering a multicar incident. The No. 22 NASCAR Ford crew attempted to repair the damaged race car, but ran out of time per NASCAR's Damaged Vehicle Policy, forcing him to retire. He would ultimately finish 35th, outperforming only the No. 99 Chevy Camaro ZL1 of Daniel Suarez, who finished dead last in 36th after also being involved in the wreck.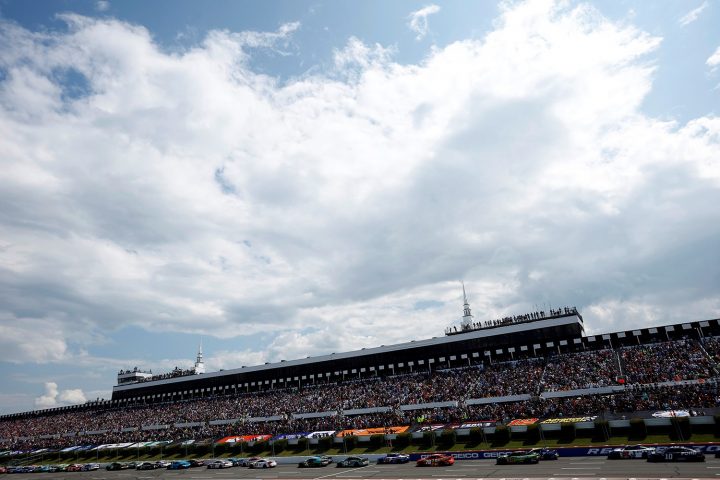 Ryan Blaney's No. 12 Mustang, meanwhile, also showed speed during the race. However, on Lap 101, Blaney was racing for the lead with the No. 19 Toyota TRD Camry of Martin Truex Jr when his No. 12 NASCAR Ford suffered a mechanical issue that resulted in power loss, forcing him to check up and drop back through the pack.
Kevin Harvick's No. 4 Mustang was also strong, but not strong enough to overpower eventual race winner Denny Hamlin in the No. 11 Camry. Harvick would ultimately finish fourth. Harrison Burton was the only other NASCAR Ford to finish in the top 10, driving the No. 21 Mustang to an eighth-place finish.
NASCAR Cup Series Race Results, Pocono Raceway, July 23, 2023

| Finish | Start | Car Number | Driver | Team | Laps Run | Laps Led | Car |
| --- | --- | --- | --- | --- | --- | --- | --- |
| 1 | 8 | 11 | Denny Hamlin | Mavis Tires & Brakes Toyota | 160 | 9 | Toyota TRD Camry |
| 2 | 7 | 45 | Tyler Reddick | Jordan Brand Toyota | 160 | 15 | Toyota TRD Camry |
| 3 | 2 | 19 | Martin Truex Jr. | Interstate Batteries Toyota | 160 | 20 | Toyota TRD Camry |
| 4 | 4 | 4 | Kevin Harvick | Busch Light Peach Ford | 160 | 0 | Ford Mustang |
| 5 | 11 | 54 | Ty Gibbs # | He Gets us Toyota | 160 | 4 | Toyota TRD Camry |
| 6 | 5 | 20 | Christopher Bell | Yahoo! Toyota | 160 | 0 | Toyota TRD Camry |
| 7 | 22 | 47 | Ricky Stenhouse Jr. | Blue Buffalo Chevrolet | 160 | 0 | Chevrolet Camaro ZL1 |
| 8 | 26 | 21 | Harrison Burton | DEX Imaging Ford | 160 | 0 | Ford Mustang |
| 9 | 24 | 43 | Erik Jones | U.S. Air Force Chevrolet | 160 | 0 | Chevrolet Camaro ZL1 |
| 10 | 35 | 9 | Chase Elliott | NAPA Auto Parts Chevrolet | 160 | 0 | Chevrolet Camaro ZL1 |
| 11 | 10 | 23 | Bubba Wallace | Leidos Toyota | 160 | 0 | Toyota TRD Camry |
| 12 | 27 | 10 | Aric Almirola | Ford Ford | 160 | 0 | Ford Mustang |
| 13 | 21 | 1 | Ross Chastain | Worldwide Express Chevrolet | 160 | 0 | Chevrolet Camaro ZL1 |
| 14 | 1 | 24 | William Byron | RaptorTough.com Chevrolet | 160 | 60 | Chevrolet Camaro ZL1 |
| 15 | 36 | 38 | Todd Gilliland | Speedy Cash Ford | 160 | 0 | Ford Mustang |
| 16 | 13 | 6 | Brad Keselowski | King's Hawaiian Ford | 160 | 0 | Ford Mustang |
| 17 | 16 | 16 | AJ Allmendinger | Action Industries Chevrolet | 160 | 0 | Chevrolet Camaro ZL1 |
| 18 | 18 | 17 | Chris Buescher | Wyndham Rewards Ford | 160 | 0 | Ford Mustang |
| 19 | 15 | 34 | Michael McDowell | Benebone Ford | 160 | 0 | Ford Mustang |
| 20 | 3 | 5 | Kyle Larson | HendrickCars.com Chevrolet | 160 | 24 | Chevrolet Camaro ZL1 |
| 21 | 25 | 8 | Kyle Busch | Lenovo Chevrolet | 160 | 0 | Chevrolet Camaro ZL1 |
| 22 | 32 | 42 | Noah Gragson # | Sunseeker Resort Chevrolet | 160 | 0 | Chevrolet Camaro ZL1 |
| 23 | 9 | 2 | Austin Cindric | Menards/Libman Ford | 160 | 0 | Ford Mustang |
| 24 | 20 | 48 | Alex Bowman | Ally Best Friends Chevrolet | 160 | 0 | Chevrolet Camaro ZL1 |
| 25 | 31 | 51 | Cole Custer(i) | Jacob Companies Ford | 160 | 0 | Ford Mustang |
| 26 | 28 | 15 | JJ Yeley(i) | Patriot Mobile Ford | 160 | 0 | Ford Mustang |
| 27 | 12 | 7 | Corey LaJoie | TD Bank Chevrolet | 160 | 5 | Chevrolet Camaro ZL1 |
| 28 | 33 | 77 | Ty Dillon | Gainbridge Chevrolet | 160 | 0 | Chevrolet Camaro ZL1 |
| 29 | 29 | 14 | Chase Briscoe | HighPoint.com Ford | 160 | 0 | Ford Mustang |
| 30 | 14 | 12 | Ryan Blaney | Advance Auto Parts Ford | 160 | 2 | Ford Mustang |
| 31 | 34 | 41 | Ryan Preece | Mohawk Northeast Ford | 159 | 0 | Ford Mustang |
| 32 | 30 | 78 | BJ McLeod | B'laster Chevrolet | 159 | 0 | Chevrolet Camaro ZL1 |
| 33 | 19 | 31 | Justin Haley | LeafFilter Gutter Protection Chevrolet | 153 | 0 | Chevrolet Camaro ZL1 |
| 34 | 23 | 3 | Austin Dillon | BREZTRI Chevrolet | 105 | 0 | Chevrolet Camaro ZL1 |
| 35 | 6 | 22 | Joey Logano | Verizon Frontline Ford | 48 | 21 | Ford Mustang |
| 36 | 17 | 99 | Daniel Suarez | Jockey Chevrolet | 37 | 0 | Chevrolet Camaro ZL1 |
# – Rookie
i – Points ineligible
* – Part-time driver